The Bafsk Sewers are a dungeon from Final Fantasy II. They serve as a passage to the part of town where the Dreadnought is being built. Firion and his allies attempt to make their way through the sewers to stop the Dreadnought's completion, but they are too late: the Dreadnought is already complete. The Dark Knight and Borghen taunt Firion and then take off to go attack the towns where the rebels are located.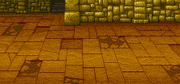 Musical themes
Edit
The background music that plays inside the Bafsk Sewers is "The Imperial Army Theme."
Ad blocker interference detected!
Wikia is a free-to-use site that makes money from advertising. We have a modified experience for viewers using ad blockers

Wikia is not accessible if you've made further modifications. Remove the custom ad blocker rule(s) and the page will load as expected.