Relm:

I couldn't miss the chance to practice my drawing!

This article is in need of a few pictures. Perhaps you can help by uploading a picture.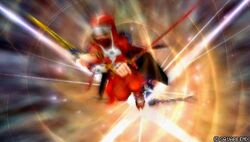 Back Attack, also known as Blind Strike and Back attack!, is a recurring ability in the series.
Appearances
Edit
TYPE0 Blind Strike is an ability initially known by Eight. It increases the critical hit rate when attacking some enemies from the rear.
Dissidia Dissidia012 Back Attack is an EX Burst of Onion Knight, used when the player activates Ninjutsu first and performs the correct option.
ATB Back Attack is an enemy ability used by Scarmiglione. It is also the ability of the Thief.