Relm:

I couldn't miss the chance to practice my drawing!

This article is in need of a few pictures. Perhaps you can help by uploading a picture.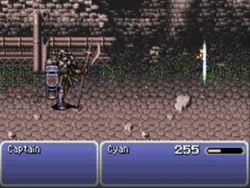 Axe (アックス, Akkusu?) is a recurring enemy ability in the Final Fantasy series. It typically deals physical damage to a single target with no additional effects.
Appearances
Edit
V Axe is used by Drippy. It deals physical damage to a target.
VI Axe is used by Captain, Templar, and Officer. It deals a medium amount of physical damage to a target.
IX Axe is used by Goblin Mage. It deals a small amount of physical damage.
FFMQ Axe is used by Minotaur and Minotaur Zombie. It has an attack power of 5 and deals physical damage.
FFA Axe is an enemy ability used by the Minotaur, a projectile that is shot in a straight line.
FFL2 Axe is a special attack that has 20 uses, it also increases a Robot's HP by 9. The damage formula for Axe is the user's Str x8. This attack can be used by Killer, Warrior, and Ashura.
FFD Axe is used by Lieutenant and Base Captain. It deals physical damage to one target.