Relm:

I couldn't miss the chance to practice my drawing!

This article is in need of a few pictures. Perhaps you can help by uploading a picture.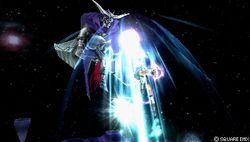 Auroral Uppercut (羅刹七星拳, Rasetsu Shichiseiken?, lit. Rakshasa Big Dipper Fist) is a recurring ability in the series.
Appearances
Edit
Dissidia012 Auroral Uppercut is an aerial physical HP Attack for Prishe, obtained at the start of the game. It requires 30 CP to equip (15 when mastered), 130 AP to master, has Melee High priority, and induces Wall Rush. When used, Prishe will move towards the opponent before rising to the sky, making it excellent for attacking from below the opponent. In addition, it hits multiple times before applying the HP damage.
Etymology
Edit
[view · edit · purge]An aurora, sometimes referred to as a polar light, is a natural light display in the sky, predominantly seen in the high latitude (Arctic and Antarctic) regions.