Relm:

I couldn't miss the chance to practice my drawing!

This article is in need of a few pictures. Perhaps you can help by uploading a picture.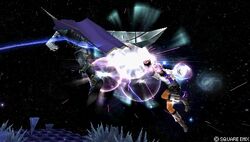 Asuran Fists (夢想阿修羅拳, Musō Ashura-ken?, lit. Dreaming Asura Fist) is a recurring ability in the Final Fantasy series. It is typically an attack usable by Monks.
Appearances
Edit
XI Asuran Fists is a Weapon Skill.
Dissidia012 Asuran Fists is one of Prishe's HP attacks, and her initial HP attack on the ground. The attack consists of a lunge forward, then a series of rapid punches to drive the opponent up before slamming them to the ground, dealing Wall Rush damage. The attack needs 130 AP to master and 30 CP to equip.
TCG Asuran Fists is an ability usable by Maat's card for one Lightning CP and the discard of another Maat card. The player chooses an Active Forward and deals 8000 damage to it.
Etymology
Edit
[view · edit · purge]Asuras (Sanskrit: असुर) are mythological lord beings in Indian texts who compete for power with the more benevolent devas (also known as suras). Asuras are described in Indian texts as powerful superhuman demigods or demons with good or bad qualities.
Asura is known as Ashura (阿修羅, Ashura?) in Japan, mostly portrayed as a six-armed god wielding different weapons in each hand.