Relm:

I couldn't miss the chance to practice my drawing!

This article is in need of a few pictures. Perhaps you can help by uploading and adding a picture or two.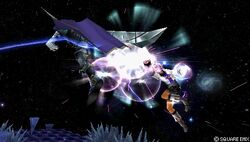 Asuran Fists (夢想阿修羅拳, Musō Ashura-ken?, lit. Dreaming Asura Fist) is a recurring ability in the Final Fantasy series. It is typically an attack usable by Monks.
Appearances
Edit
XI Asuran Fists is a Weapon Skill.
Dissidia012 Asuran Fists is one of Prishe's HP attacks, and her initial HP attack on the ground. The attack consists of a lunge forward, then a series of rapid punches to drive the opponent up before slamming them to the ground, dealing Wall Rush damage. The attack needs 130 AP to master and 30 CP to equip.
TCG Asuran Fists is an ability usable by Maat's card for one Lightning CP and the discard of another Maat card. The player chooses an Active Forward and deals 8000 damage to it.
Etymology
Edit
[view · edit · purge]Asuras (Sanskrit: आसुर) are deities and beings found in Central, Eastern, and South Asian mythology, with a long history of tradition, syncretization, and adaptation. Originating from Zoroastrianism, an ancient Iranian religion, there are two types of gods: the asuras (the gods of light) and the devas (the gods of darkness); Asura Mazda is the highest asura while Ahriman is the highest deva.
Adapted into Hindu religion, asuras at first were seen as the deities of moral and social phenomena who competed with the devas. Overtime, in contrast with Zorastrianism, asuras are known as evil while the devas are the good deities with their reputations to be known as the lowest tier of deva, associated with malign passions, materialistic pursuits, and carnal pleasures.
Adapted into Buddhism, asuras grew to be known as powerful but violent beings, and as one of the six reincarnations in the cycle of Samsara. They are described as possessed with anger and jealousy while living in a world where peace and resolution is non-existent, and due to these aspects, it is seen to be as one of the Four Unhappy/Cursed Births by the karma of one who engages in war and bloodshed. Unlike former incarnations, there are said to be good and evil asuras. Good asuras are represented as wayward but well-intentioned, with its more prominent figures representing one of the Eight Legions of Buddhism that protect the Dharma. Evil asuras are said to be no different than rakshasas and demons.
Shrines and statues of Asura can be found in Japan. It appears in many Japanese anime, manga, and video games, mostly portrayed as a six-armed god wielding weapons.