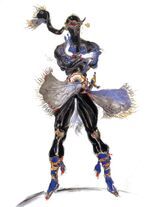 The Assassin (アサシン, Asashin?) is a recurring Job in the Final Fantasy series. The Assassin job focuses on taking out the target as quickly and efficiently as possible, sacrificing Defense for movement, strength, and powerful debilitating abilities. In Final Fantasy Tactics Advance they can also strike from afar with bows, in case the battle gets too busy.
Notable assassins are Shadow from Final Fantasy VI, and Celia and Lettie from Final Fantasy Tactics.
Appearances
Edit
VI Shadow's job wasn't listed within the Super Nintendo version of the North American game. It was removed. Within the Final Fantasy III Nintendo Player's Guide, his job is given as Ninja. The English Gameboy Advance version retained the job titles and Shadow is a Assassin.
The Assassin job is an enemy-exclusive job and specializes in attacks to permanently disable opponents. It also possesses the Dual Wield skill.
The Assassin job is exclusive to viera. It uses several attacks that inflict negative status effects.
The blade-wielding viera job, Assassin reappears.
The Assassin is a job available after obtaining a level 15 Ninja and a level 10 Gambler. The preferred weapons for the job are katanas and bows. The job specializes in both strength and agility abilities.
TCG Assassin appears with two Lightning-elemental cards.
Non-Final Fantasy appearancesEdit
Sajin and Zeroshin job is Assassin, and have Ninjutsu as their command and they are the only ones to be able to equip katanas.
The Assasin appears on a gold card.
Etymology
Edit
[view · edit · purge]The Assassins were a secret order of Nizari Ismailis, particularly those of Persia and Syria, that formed in the late 11th century. Mentions of Assassins were preserved within European sources where they are depicted as trained killers, responsible for the systematic elimination of opposing figures.