Asmodeus
Talk

0
13,960 pages on
this wiki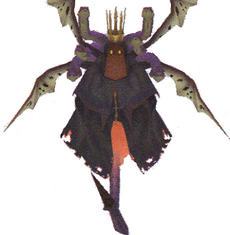 Asmodeus is a minor antagonist in Final Fantasy: The 4 Heroes of Light.
Before the events of the game, Asmodeus arrived in the Kingdom of Guera and disguised himself as King Guera. Asmodeus had send Krinjh to the Kingdom of Arbor in order to get a seedling from the Great Tree to better their country. Upon Krinjh's return, with Ariadne, Asmodeus ordered him to return to Moonlight Tower.
While Krinjh was at the tower, barely surviving the horde of monsters he placed there to kill the human off, Asmodeus takes Ariadne to Quicksand Castle to manipulate her thoughts about Krinjh and corrupt the seedling. Asmodeus managed to succeed in his plan, using the seedling for evil purposes and causing Ariadne to become the Sand Devil.
Fifteen years later, the party first meets Asmodeus as King Guera after they manage to find their way to Guera. Brandt and Yunita ask for King Guera's help to save Horne, he decides to help them if only they rid him of the Sand Devil. After the defeat of the Sand Demon, who was actually Ariadne, Krinjh tells the party to go the magical land of Arbor, the guard on Guera Palace tells the party to go to the Inn if attempting to enter, Brandt wakes up before Yunita and goes outside and a cat (who he doesn't know is Aire) shows her a map of the world, the map reminds him when Krinjh tells them to go to Arbor, Brandt decides to go by himself, but Aire joined him.
After being sent decades into the past, the party goes to Guera as they witness Krinjh bring a Great Tree seedling to Asmodeus and Krinjh goes to Moonlight Tower where Asmodeus sends a Ghoul and 2 Skeleton to get rid of Krinjh,the team comes to Krinjh's aid to thwart the fiend's trap. The party then goes to Quicksand Castle to stop Asmodeus from his corruption of Ariadne, the group uses the Merkmal to force the fiend into his true form. When successfully defeated, Krinjh and Ariadne become the rulers of Guera, leading the nation to peace. Later, Asmodeus is revived within the Star Chamber, but he is defeated once more.
Main article: King Guera (Boss)
Main article: Asmodeus (Boss)
Asmodeus is fought three times in the game, once as King Guera, second in Quicksand Castle, and a third time in the Star Chamber.
Etymology
Edit
Asmodeus is a demon, and one of the Seven Princes of Hell. Representing the deadly sin Lust, he is known for twisting people's sexual desires.