Ashelia B'nargin Dalmasca
18,063 pages on
this wiki
Talk

60
Hume, 19 years old
A princess who has lost everything.
The only child of King Raminas and sole heir to the Dalmascan throne, Ashe is believed dead following the invasion. She meets Vaan and the others under the most unlikely of circumstances.
Ashe knows all too well she lacks the power to right the wrongs committed against her and her kingdom, but she will not allow herself to admit defeat.
—Game manual
Ashelia B'nargin Dalmasca, otherwise known as Ashe and by the alias Amalia, is a playable character in Final Fantasy XII and Final Fantasy XII: Revenant Wings. She is the former Princess of Dalmasca and the only daughter of King Raminas. She is the last true descendant of King Raithwall, the Dynast King. She also appears in the manga version of Final Fantasy XII that delves more into her background.
While Vaan is the game's designated protagonist, the bulk of the party's actions in Final Fantasy XII hinge on Ashe, and the main story is her drive to accumulate the power she needs to avenge her kingdom.
Appearance
Edit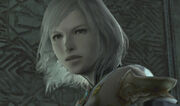 In Final Fantasy XII, Ashe is 19 years old with a small build and slender frame. She has sandy blonde hair cropped above her shoulders, and she is variably depicted with blue, brown or gray eyes. Ashe is seen in four different outfits.
Her main attire comprises of a white and gold cropped shirt over a leather waist swath and a bright pink miniskirt secured by a thick light-blue belt. She wears metal thigh-high leg-guards and a pair of gold metal open-toed shoes with darker pink stockings. Her wedding gown is similar in design to her white and gold shirt, with a long, fitted white skirt and a feather-adorned white veil. She is briefly seen in a black mourning gown, and in the final scenes, seen dressed in a peach gown with loose sleeves. In Final Fantasy XII: Revenant Wings, Ashe wears her standard Final Fantasy XII outfit.
Personality
Edit
I am simply myself. No more and no less. And I want only to be free.
—Ashe to Vayne
Ashe is fiercely independent and driven and will stop at nothing to restore her family to its rightful place. She is proud, indignant, determined and loyal. Her façade can be broken by memories of Lord Rasler, reminding her of the joyful and easier times of her youth. Ashe's true strength is the ability to turn down great power even while being faced with that same power backing her adversary, realizing it would corrupt the ideals she has lived her life by.
Final Fantasy XIIEdit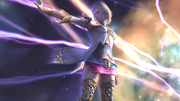 Ashe's stats make her similar to a Red Mage due to the high potential with Black and White Magicks. Due to her low HP and Vitality, one may want to equip her with long-range weapons: bombs, bows, or crossbows.
When Ashe first joins as a guest under the guise of Amalia, and later joins permanently on Dreadnought Leviathan. As she is the last of the six playable characters to join the party, she begins with the most licenses. Since Ashe has high magickal stats but low HP growth she makes for a good mage-type character, and is a good character to also learn Espers. Teaching her Mystic Equipment allows Ashe to make the most of her magick-geared stats.
Ashe's HP growth is low, but her MP growth is potentially the party's highest. Her Magick Power is tied with Penelo's as the highest, and her Strength, Vitality, and Speed are average. In the International Zodiac Job System, she has the highest magick stat out of all the party member at level 99. She also ties with Basch and Vaan in having the second highest Strength at level 99. Due to her all around high strength and magick, she can excel in both physical and magic oriented jobs.
Support Character - Amalia (Garamsythe Waterway)
Initial Data
Initial Equipment
Ashe and "Amalia" share the same initial equipment.
Initial Licenses
Stats
Ashe and "Amalia" share the same stats.
Final Fantasy XII: Revenant WingsEdit
Ashe is a Time Mage and equips bombs. She has several Time Magicks for skills both offensive and supportive. Her Quickening, Empyrean's Edict, stops the enemy team from summoning Yarhi for a set amount of time. It can be obtained by defeating the Esper Famfrit.
Abilities
Edit
| Name | Level | Description | Image |
| --- | --- | --- | --- |
| Slowga | — | Slow the actions of all foes in range. | |
| Combustion | — | Increase attack radius. | |
| Hastega | 35 | Increase Speed of all allies in range. | |
| Regenga | 37 | Restore HP to all allies in range over time. | |
| Pyrotechnics | 41 | Deal ranged damage to multiple foes. | |
| Teleport | 45 | Teleport group's Espers to user's position. | |
| Comet | 50 | Deal heavy damage to all foes in range. | |
| Empyrean's Edict | — | Prevent all foes from summoning Espers. | |
Creation and Development
Edit
According to two Famitsu interviews, Ashe's face was based on that of the French actress Sylvie Testud with her features altered to look more Japanese.
In the English release of Final Fantasy XII, Ashe is voiced by Kari Wahlgren, the same actress who voiced Shelke the Transparent in Dirge of Cerberus -Final Fantasy VII- and Ovelia Atkascha in Final Fantasy Tactics: The War of the Lions. She is voiced by Mie Sonozaki in Japanese release, who has also voiced Jihl Nabaat in Final Fantasy XIII.
Ashe, along with Basch and Balthier, speaks in formalized English in contrast to Vaan and Penelo's more casual style. In Japanese, Balthier, Ashe and Basch use an older, more formal style of Japanese than Vaan and Penelo.

Musical Themes
Edit
"Ashe's Theme" (アーシェのテーマ, Āshe no Tēma?) is a piece mainly driven by a dark brass melody, stringed and percussion accompaniment. It draws from many motifs heard throughout the soundtrack. Unlike most character themes it is not played during Ashe's central scenes, rather, it is heard at the gates of Giruvegan, and in the Penumbra of the Subterra.
A piano arrangement of the theme is included on the Piano Collections: Final Fantasy XII album.
Other Appearances
Edit
Ashe was set to appear in Fortress, a game taking place in Ivalice. Two outfits were designed for her, and are less revealing variants of her original Final Fantasy XII outfit. Since she wears in a headdress similar to the one worn by King Raminas in one of the two designs, Ashe was likely to be a slightly older queen at this point in Ivalice history.

Cloud

:

I couldn't finish 'em. Looks like this's gonna get complicated.

The following tables are incomplete for one or more reasons. If you wish, please examine the table and add anything missing. Remove this notice upon completion.
The former princess of the kingdom of Dalmasca and the only living heir to its throne. Her strong will and drive for justice have made her hard and unwilling to bend. Having lost both her husband Rasler and her father in the war, she retreats underground Rabanastre and forms the Resistance. It is in the city's sewers that she will meet and ally herself with Vaan and the others.
—Online description
Ashe is unlocked by collecting Scarlet Shards.
She is a Spell and Defense oriented character.
| Level | HP | CP | Strength | Magic | Agility | Luck |
| --- | --- | --- | --- | --- | --- | --- |
| 1 | 254 | 9 | 12 | 17 | 16 | 15 |
| 10 | 1,011 | 14 | 27 | 40 | 36 | 34 |
| 20 | 1,852 | 20 | 44 | 64 | 58 | 55 |
| 30 | | | | | | |
| 40 | 3,535 | 31 | 78 | 114 | 102 | 97 |
| 50 | 4,377 | 37 | 95 | 139 | 124 | 118 |
| 60 | 5,218 | 42 | 112 | 163 | 146 | 140 |
| 70 | 6,060 | 48 | 129 | 188 | 168 | 161 |
| 80 | 6,292 | 50 | 134 | 195 | 175 | 167 |
| 90 | 6,524 | 50 | 139 | 202 | 181 | 173 |
| 99 | 6,733 | 50 | 143 | 209 | 187 | 179 |
iOS Stats
Edit
Ashe returns and is now unlocked by collecting Orange Crystal Shards.
She is a Spell and Defense oriented character.
| Level | CP | HP | Strength | Magic | Agility | Luck | Stamina | Spirit |
| --- | --- | --- | --- | --- | --- | --- | --- | --- |
| 1 | 9 | 204 | 11 | 14 | 10 | 14 | 10 | 14 |
| 50 | 37 | 3516 | 91 | 113 | 78 | 111 | 78 | 114 |
| 99 | 50 | 5408 | 137 | 171 | 117 | 167 | 118 | 172 |
Abilities
Edit
Ashe appears in Pictlogica Final Fantasy as a playable character.
Ashe is a summonable Legend depicted in her Final Fantasy XII outfit. Her abilities are Northswain's Glow, Heaven's Wrath, Ardor, Dark and Maelstrom's Bolt. Her EX abilities are Ardor and Heaven's Wrath. She is first introduced as a reward from an invitation event. Her abilities and summon stone are obtained from inviting a certain number of friends to play Final Fantasy Airborne Brigade Strike.
This Dalmascan princess is working overtime in the Resistance to retake her kingdom.
—Description
Ashe is an exclusive character only available from the Premium Character Shop as a random downloadable content. She uses the Northswain's Glow ability during battle.
Ashe appears in Final Fantasy Record Keeper.
Ashe appears in the Japan-exclusive Final Fantasy trading card game published by Square Enix. Her cards are water-elemental.
Non-Final Fantasy AppearancesEdit
Itadaki Street seriesEdit
Ashe appears in Dragon Quest & Final Fantasy in Itadaki Street Special, a game which was released before Final Fantasy XII, alongside Vaan.
Ashe appears along with the other five main characters of Final Fantasy XII in Dragon Quest & Final Fantasy in Itadaki Street Portable. The game was released prior to Final Fantasy XII.
Virtual World
Edit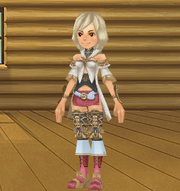 Users in Square Enix Members Virtual World community can make their character appear as Ashe. Ashe's hair costs 100 crystals and her clothes cost 480 crystals.

Merchandise
Edit
Ashe's Play Arts action figure was released in 2007 in Japan and includes an extra pair of open hands, the Treaty-Blade, and a display stand. Ashe's ring has been also released as merchandise, made of sterling silver. Ashe appears on the cover of the first issue of the Final Fantasy XII manga.
Etymology
Edit
Ashe's alias is Amalia. [view  · edit  · purge]Amalia is a Latin name meaning "hardworking". [view  · edit  · purge]The unisex name 'Ash' is an English name meaning "from the ash tree".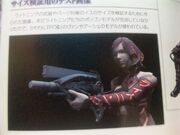 Ashe's CG model was used in the production of Final Fantasy XIII to stand in for characters who hadn't been finished yet.
A running gag throughout Final Fantasy XII is Ashe telling others not to interrupt her while she is talking. She dislikes the word "insurgents" and corrects others, saying that her group is called the "resistance".

In the manga, the word used is "rebel-force" as said by Judge Ghis. Ashe corrects him by saying "liberation".