Artifact Equipment
Talk

0
13,970 pages on
this wiki
Cid

: Oh, shut up and help me remodel the Artifact Equipment page!
Please expand this article into a full one. More details can be found, and this request can be discussed, on the associated

discussion page

.
Artifact Equipment is the job-specific equipment in Final Fantasy XI and Final Fantasy XIV. It is obtained through a series of quests in either game. Typically the armor sets are inspired by early-franchise depictions of traditional jobs, although many sets are of original design.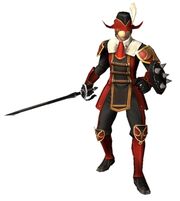 In Final Fantasy XI, the Artifact Equipment for any given job comes in five pieces - head, body, hands, legs and feet - and one other piece that varies with the job. The first quest usually rewards a Level 41 weapon and is accessible at Level 40. The next two quests are available at Level 50 and each yield one more piece in the set. The remaining three pieces are involved in the "Borghertz's Hands" line of quests, requiring adventurers to seek out Treasure Coffers in various Rise of the Zilart dungeon areas.
There are also better versions of the Artifact Equipment found in Dynamis and Abyssea. These are called Relic and Empyrean respectively.
Much like Final Fantasy XI, the Artifact Equipment in Final Fantasy XIV is obtained through a combination of questing and treasure hunting. The Artifacts for any given job are obtained toward the end of the line of quests involved in unlocking that job and its abilities. A player cannot initiate the quest specific to seeking Artifacts until they have reached at least level 45.
Most Artifact pieces have stats comparable to that of single / double melded gear and unique, job skill enhancing effects such as reducing a certain ability's cooldown or increasing it's damage that are unique to them and cannot be found in any other piece of equipment or materia in the game.
The leg equipment for each job is invariably found in either Dzemael Darkhold, Cutter's Cry, or Aurum Vale. Two other gear pieces are always in certain chests all around the world that can usually be reached solo, and the fourth piece is inside one of the beastman strongholds.
The body equipment is earned alongside the job's 15-minute ability at the end of the quest line after an intense battle that often takes a full party to complete.
Other than the armor, there's also unique weapons that can be obtained from a separate quest.
Unlike Final Fantasy XI, not all artifact pieces can be obtained on one's own.
The player community in XI has adopted "AF" as the abbreviation for Artifact gear and its variants, a phrase that has carried over to XIV. Though the higher-level sets are referred to by NPCs and the UI as "Relic" and "Empyrean" equipment, the players have taken to calling them "AF2 and 3" or "AFv2 and v3".
With the possibility in Final Fantasy XI to rapidly power-level a character to maximum through Abyssea, many players will opt not to quest for Artifacts because they become obsolete relatively early.
In contrast to XI, even should the level cap be raised in XIV, it is expected that players will obtain their Artifacts anyway as a bonus for completing the quests for their useful abilities.
Artifacts can be entrusted to an NPC for storage in both games, allowing collectors to keep their inventory open.