Armor Construct
きょじんへい (Kyojinhei?)
Statistics
Level
HP
?
10,000
Strength
Defense
128
4
Magic
Magic Defense
0
38
EXP
Gil
31,000
1,500
Armor Construct
きょじんへい (Kyojinhei?)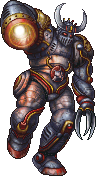 Statistics
Level
HP
?
10,000
Strength
Defense
128
4
Magic
Magic Defense
0
38
EXP
Gil
31,000
1,500
Armor Construct is an enemy from Final Fantasy IV: The After Years. They will counter any magic attack by using Self-Destruct, so it is advised to only use physical attacks on them. They are not very powerful, but it should be noted that the player should not cast Berserk on them, as it will only make them much more difficult to defeat. The Armor Construct the player faces as a "Monster-in-a-Box" drops a Ribbon, and this is only accessible in "The Planet Eater" episode.
Related enemies
Edit
Ad blocker interference detected!
Wikia is a free-to-use site that makes money from advertising. We have a modified experience for viewers using ad blockers

Wikia is not accessible if you've made further modifications. Remove the custom ad blocker rule(s) and the page will load as expected.