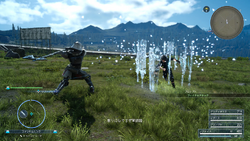 Armiger (ファントムソード召喚, Fantomu Sōdo Shōkan?, lit. Summon Phantom Swords (Royal Arms)), known in pre-release material as Armiger Arsenal, and also known as the Power of Kings, is the means to wield the royal arms all at once. It is Noctis's Limit Break in Final Fantasy XV.
Mechanics
Edit
The player needs to collect at least three royal arms for Armiger to become available. Before Armiger can be used, the player must first fill up the Armiger bar by attacking enemies. Once it is full, Armiger can be activated during battle by pressing

+

or

+

. Using Armiger for the first time earns The Power of Kings achievement/trophy.
Armiger summons spectral versions of the royal arms around Noctis. For 10 seconds (can be increased to 15 seconds with upgrades from the Ascension Grid), it augments Noctis's strength, speed and HP regeneration rate, turns all of his movements into warps, makes his warp-strikes more powerful, and prevents him from falling into the Danger state should his HP hit 0.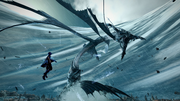 Before the Armiger bar depletes, Armiger Chain can be activated by pressing

+

or

+

. This allows the party to briefly take up a royal arm each and attack as one. Killing enemies with Armiger Chain used to yield 100 EXP per kill, but this was raised to 3000 EXP per kill in patch 1.21.
The last stage of the Armiger Chain is: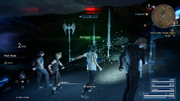 First attack:
Second attack:
Third attack:
Final attack:

Sword of the Father - Noctis
In the second part of the Leviathan battle during Chapter 9, Noctis wields every royal arm, including ones he hasn't obtained yet. If a player can execute a complete combo, Noctis will finish using the same attack pattern he uses when finishing a combo with the Sword of the Father.
In Final Fantasy XV Episode Duscae, Armiger Arsenal drains Noctis's MP and ends when it is fully depleted. The final game instead uses the Armiger bar, a separate gauge with no connection to MP.

Royal arms
Edit
Royal arms can be equipped by Noctis. Using them as normal weapons drains his health when he attacks with them (when he is player controlled; AI-controlled Noctis with character swap loses no HP), but they come with relatively high attack power and are the only weapons that can ignore enemy resistances. The royal arms are wielded at once during Armiger, during which Noctis doesn't lose health from wielding them.
Ascension Grid
Edit
| | |
| --- | --- |
| 48 | Armiger Chain Reaction |
| Name | Effect |
| --- | --- |
| Armiger | Enter Armiger mode when the Armiger bar is full. Temporarily boosts attributes. |
| Armiger Action | Gain 1 AP every time you use Armiger. |
| Armiger Chain | Special group attack requiring a full Armiger bar. |
| Armiger Chain Reaction | Gain 1 AP every time you use Armiger Chain. |
| Armiger Freechain | Gain unlimited MP for 60 seconds after executing Armiger Chain. |
| Armiger Harvester | Boost Armiger bar gain from attacks by 30%. |
| Armiger Sagechain | Double EXP from Armiger Chain kills. |
| Armiger Warchain | Boost Armiger Chain damage by 50%. |
| Iron Armiger | Reduce Armiger bar depletion during Armiger mode by 30%. |
Armiger Unleashed
Edit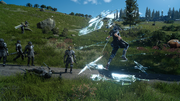 Armiger Unleashed is an enhanced version of the Armiger available for Noctis in the Windows and Royal Editions. It is unlocked by equipping The Founder King's Sigil. Armiger Unleashed lasts much longer than the regular Armiger and Noctis gains access to powerful combos and techniques that break the damage limit, but unlike in regular Armiger, Noctis can fall into the Danger state, which will also cancel Unleashed.

Development
Edit
Noctis's ability to wield multiple crystalline weapons at once has been present ever since the Final Fantasy Versus XIII E3 2006 trailer where the game was revealed. He was opposed by a man in a white cloak, and Stella Nox Fleuret, both whom displayed similar skills to Noctis to summon phantom weapons from thin air. The man in the white robe became Ravus Nox Fleuret in the final game.

Other appearances
Edit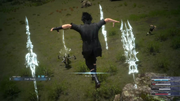 Several unique weapons must be collected before Noctis can use Armiger Arsenal. Each weapon unlocks a new ability to use with Armiger. The player can find Phantom Swords from the environment, and finding four maxes out the Armiger. In the final game, "Arsenal" was dropped from the ability name, and the weapons are not referred to as Phantom Swords. The Phantom Swords are unique to the demo.
| Weapon | Description | Location | Abilities |
| --- | --- | --- | --- |
| Aqesiro | Sword that slices through space and time, allowing its wielder to warp at will. | Already equipped to Noctis. | Warp Strike, Warp Dodge |
| Secace | Storied sword that strikes with waves of resonance. Calls forth the formidable power of the Knightswords. | Cliff northeast of Digythe Haven. | Armiger Arsenal |
| Galatine | Gallant greatsword that cuts through thin air to find its mark. Calls forth the protective power of the Knightshield. | Southeastern portion of Fociaugh Cavern. | Knightshield |
| Rhongomyniad | Lance that nimbly negates damage using displacement. Calls forth the preventive power of the Knightguard. | Defeat Deadeye. | Knightguard |
In a flashback Noctis has of his childhood, King Regis drives away the marilith daemon by summoning numerous weapons to him at once. As an adult, Noctis faces off against the same daemon by using Armiger. Noctis wields Blood Edge and the Soul Saber, rather than his royal arms.

Armiger can be used by Regis Lucis Caelum and even by Ardyn Izunia. The player progresses through a series of stages defeating monsters and daemons, string combos together, juggle enemies in the air, and use magic. Regis can summon an ally whenever his combo count reaches 8, and he can use Armiger whenever it reaches 24. If he summons an ally before using Armiger, they will join the attack. If all three allies are summoned before Armiger, they will execute the powerful Bonds of Battle.
While not referred to by name, the Armiger Arsenal appears when a character performs the Phantom Sword ability taught from the Noctis Phantom Stone.
Armiger automatically activates after Noctis's HP falls below a certain amount. While active, Noctis's royal arms will also attack when he performs Bravery attacks.

Legend Cards
Armiger is Noctis's Overstrike Soul Break, learned from the Sword of the Father (XV). When invoked, Noctis dives diagonally toward a target at high speed, and upon impact strikes with tremendous force that can break the damage cap. Noctis then enters Armiger Mode, gaining a bubble shield for 30% of his Max HP worth of damage, and raising his Attack a moderate amount while the shield is in play.
Other Soul Breaks based on Armiger exist, for instance Noctis's Ultra Soul Break Armiger Wakes.
Rather than summoning the same royal arms that appear in Final Fantasy XV, Noctis's Armiger shows the four "Phantom Swords" obtained in the Episode Duscae demo.
Non-Final Fantasy guest appearancesEdit
For Whom the Alchemist ExistsEdit
Noctis is an obtainable character during the Final Fantasy XV collaboration event. He wields seven royal arms in Armiger.

Etymology
Edit
[view · edit · purge]Armiger is a word of Latin origin that means "bearer, armed." In the art of heraldry, it refers to an individual granted the right to use a coat of arms upon proving his or her worth.
In the final game, the royal arms are named after the moniker of the king who wielded it, but in Episode Duscae the phantom swords had traditional names:
[view · edit · purge]Secace is the sword Lancelot used to battle the Saxons at Saxon Rock.
Galatine is synonymous with "Galatyn." [view · edit · purge]Galatyn means "Gawain's sword" in Scotland.
[view · edit · purge]Rhongomyniad belonged to King Arthur. Its name is a combination of the words "spear" and "slayer."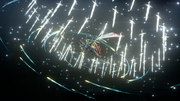 The Astral Bahamut is associated with multiple swords. His summon attack is Ultima Sword that has massive glowing blades rain down on the enemy, somewhat similar to how the glowing weapons surround the wielder in Armiger. Lucian kings' ability to wield multiple weapons at once with Armiger could thus be a power originating from Bahamut, although not all of the royal arms are swords.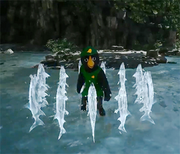 For April Fools 2017 Square Enix announced "Episode Kenny" where the player would play as Crow's Nest mascot Kenny Crow whose Armiger would be summoning crystalline fish.
References
Edit