Armadodo
エサンスーシ (

Esansūshi

?)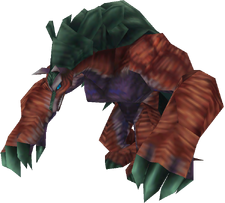 Statistics
Level
HP

1.5(Lv)² + 30(Lv) + 700

Level
HP

1.5(Lv)² + 30(Lv) + 700

1
731
19
1,811
STR

([4.2(Lv)] + [(Lv) / 2] - [(Lv)² / 200] + 45) / 4

MAG

([3.5(Lv)] + [(Lv) / 8] - [(Lv)² / 200] + 4) / 4

STR

([4.2(Lv)] + [(Lv) / 2] - [(Lv)² / 200] + 45) / 4

MAG

([3.5(Lv)] + [(Lv) / 8] - [(Lv)² / 200] + 4) / 4

12
1
33
17
VIT

((Lv) / 12) - (Lv) + (Lv) + 120

SPR

((Lv) / 8) - (Lv) + (Lv) + 4

VIT

((Lv) / 12) - (Lv) + (Lv) + 120

SPR

((Lv) / 8) - (Lv) + (Lv) + 4

120
4
121
6
SPD

((Lv) / 5) - [(Lv) / 10] + 4

EVA

((Lv) / 12) - [(Lv) / 24]

SPD

((Lv) / 5) - [(Lv) / 10] + 4

EVA

((Lv) / 12) - [(Lv) / 24]

4
0
6
1
EXP

15(Lv)² + 65

AP
EXP

15(Lv)² + 65

AP
80
3
350
3
Armadodo
エサンスーシ (

Esansūshi

?)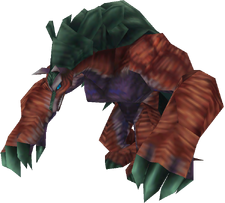 Statistics
Level
HP

1.5(Lv)² + 30(Lv) + 700

Level
HP

1.5(Lv)² + 30(Lv) + 700

20
1,900
29
2,831
STR

([4.2(Lv)] + [(Lv) / 2] - [(Lv)² / 200] + 45) / 4

MAG

([3.5(Lv)] + [(Lv) / 8] - [(Lv)² / 200] + 4) / 4

STR

([4.2(Lv)] + [(Lv) / 2] - [(Lv)² / 200] + 45) / 4

MAG

([3.5(Lv)] + [(Lv) / 8] - [(Lv)² / 200] + 4) / 4

34
18
44
26
VIT

((Lv) / 12) - (Lv) + (Lv) + 120

SPR

((Lv) / 8) - (Lv) + (Lv) + 4

VIT

((Lv) / 12) - (Lv) + (Lv) + 120

SPR

((Lv) / 8) - (Lv) + (Lv) + 4

121
6
122
7
SPD

((Lv) / 5) - [(Lv) / 10] + 4

EVA

((Lv) / 12) - [(Lv) / 24]

SPD

((Lv) / 5) - [(Lv) / 10] + 4

EVA

((Lv) / 12) - [(Lv) / 24]

6
1
7
1
EXP

15(Lv)² + 65

AP
EXP

15(Lv)² + 65

AP
365
3
500
3
Armadodo
エサンスーシ (

Esansūshi

?)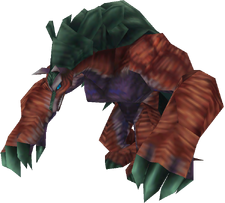 Statistics
Level
HP

1.5(Lv)² + 30(Lv) + 700

Level
HP

1.5(Lv)² + 30(Lv) + 700

30
2,950
100
18,700
STR

([4.2(Lv)] + [(Lv) / 2] - [(Lv)² / 200] + 45) / 4

MAG

([3.5(Lv)] + [(Lv) / 8] - [(Lv)² / 200] + 4) / 4

STR

([4.2(Lv)] + [(Lv) / 2] - [(Lv)² / 200] + 45) / 4

MAG

([3.5(Lv)] + [(Lv) / 8] - [(Lv)² / 200] + 4) / 4

45
27
116
79
VIT

((Lv) / 12) - (Lv) + (Lv) + 120

SPR

((Lv) / 8) - (Lv) + (Lv) + 4

VIT

((Lv) / 12) - (Lv) + (Lv) + 120

SPR

((Lv) / 8) - (Lv) + (Lv) + 4

122
7
128
16
SPD

((Lv) / 5) - [(Lv) / 10] + 4

EVA

((Lv) / 12) - [(Lv) / 24]

SPD

((Lv) / 5) - [(Lv) / 10] + 4

EVA

((Lv) / 12) - [(Lv) / 24]

7
1
14
4
EXP

15(Lv)² + 65

AP
EXP

15(Lv)² + 65

AP
515
3
1,565
3
| Lv | HP | STR | MAG | VIT | SPR | SPD | EVA | EXP |
| --- | --- | --- | --- | --- | --- | --- | --- | --- |
| 1 | 731 | 12 | 1 | 120 | 4 | 4 | 0 | 80 |
| 2 | 766 | 13 | 2 | 120 | 4 | 4 | 0 | 95 |
| 3 | 803 | 14 | 3 | 120 | 4 | 4 | 0 | 110 |
| 4 | 844 | 15 | 4 | 120 | 4 | 4 | 0 | 125 |
| 5 | 887 | 17 | 5 | 120 | 4 | 5 | 0 | 140 |
| 6 | 934 | 18 | 6 | 120 | 4 | 5 | 0 | 155 |
| 7 | 983 | 19 | 7 | 120 | 4 | 5 | 0 | 170 |
| 8 | 1036 | 20 | 8 | 120 | 5 | 5 | 0 | 185 |
| 9 | 1091 | 21 | 9 | 120 | 5 | 5 | 0 | 200 |
| 10 | 1150 | 23 | 10 | 120 | 5 | 5 | 0 | 215 |
| Lv | HP | STR | MAG | VIT | SPR | SPD | EVA | EXP |
| --- | --- | --- | --- | --- | --- | --- | --- | --- |
| 11 | 1211 | 24 | 10 | 120 | 5 | 5 | 0 | 230 |
| 12 | 1276 | 25 | 11 | 121 | 5 | 5 | 1 | 245 |
| 13 | 1343 | 26 | 12 | 121 | 5 | 5 | 1 | 260 |
| 14 | 1414 | 27 | 13 | 121 | 5 | 5 | 1 | 275 |
| 15 | 1487 | 28 | 14 | 121 | 5 | 6 | 1 | 290 |
| 16 | 1564 | 29 | 15 | 121 | 6 | 6 | 1 | 305 |
| 17 | 1643 | 30 | 16 | 121 | 6 | 6 | 1 | 320 |
| 18 | 1726 | 32 | 17 | 121 | 6 | 6 | 1 | 335 |
| 19 | 1811 | 33 | 17 | 121 | 6 | 6 | 1 | 350 |
| 20 | 1900 | 34 | 18 | 121 | 6 | 6 | 1 | 365 |
| Lv | HP | STR | MAG | VIT | SPR | SPD | EVA | EXP |
| --- | --- | --- | --- | --- | --- | --- | --- | --- |
| 21 | 1991 | 35 | 19 | 121 | 6 | 6 | 1 | 380 |
| 22 | 2086 | 36 | 20 | 121 | 6 | 6 | 1 | 395 |
| 23 | 2183 | 37 | 21 | 121 | 6 | 6 | 1 | 410 |
| 24 | 2284 | 38 | 22 | 122 | 7 | 6 | 1 | 425 |
| 25 | 2387 | 39 | 22 | 122 | 7 | 7 | 1 | 440 |
| 26 | 2494 | 41 | 23 | 122 | 7 | 7 | 1 | 455 |
| 27 | 2603 | 42 | 24 | 122 | 7 | 7 | 1 | 470 |
| 28 | 2716 | 43 | 25 | 122 | 7 | 7 | 1 | 485 |
| 29 | 2831 | 44 | 26 | 122 | 7 | 7 | 1 | 500 |
| 30 | 2950 | 45 | 27 | 122 | 7 | 7 | 1 | 515 |
| Lv | HP | STR | MAG | VIT | SPR | SPD | EVA | EXP |
| --- | --- | --- | --- | --- | --- | --- | --- | --- |
| 31 | 3071 | 46 | 27 | 122 | 7 | 7 | 1 | 530 |
| 32 | 3196 | 47 | 28 | 122 | 8 | 7 | 1 | 545 |
| 33 | 3323 | 48 | 29 | 122 | 8 | 7 | 1 | 560 |
| 34 | 3454 | 49 | 30 | 122 | 8 | 7 | 1 | 575 |
| 35 | 3587 | 50 | 31 | 122 | 8 | 8 | 1 | 590 |
| 36 | 3724 | 52 | 32 | 123 | 8 | 8 | 2 | 605 |
| 37 | 3863 | 53 | 32 | 123 | 8 | 8 | 2 | 620 |
| 38 | 4006 | 54 | 33 | 123 | 8 | 8 | 2 | 635 |
| 39 | 4151 | 55 | 34 | 123 | 8 | 8 | 2 | 650 |
| 40 | 4300 | 56 | 35 | 123 | 9 | 8 | 2 | 665 |
| Lv | HP | STR | MAG | VIT | SPR | SPD | EVA | EXP |
| --- | --- | --- | --- | --- | --- | --- | --- | --- |
| 41 | 4451 | 57 | 36 | 123 | 9 | 8 | 2 | 680 |
| 42 | 4606 | 58 | 37 | 123 | 9 | 8 | 2 | 695 |
| 43 | 4763 | 59 | 37 | 123 | 9 | 8 | 2 | 710 |
| 44 | 4924 | 60 | 38 | 123 | 9 | 8 | 2 | 725 |
| 45 | 5087 | 61 | 39 | 123 | 9 | 9 | 2 | 740 |
| 46 | 5254 | 62 | 40 | 123 | 9 | 9 | 2 | 755 |
| 47 | 5423 | 63 | 40 | 123 | 9 | 9 | 2 | 770 |
| 48 | 5596 | 64 | 41 | 124 | 10 | 9 | 2 | 785 |
| 49 | 5771 | 65 | 42 | 124 | 10 | 9 | 2 | 800 |
| 50 | 5950 | 67 | 43 | 124 | 10 | 9 | 2 | 815 |
| Lv | HP | STR | MAG | VIT | SPR | SPD | EVA | EXP |
| --- | --- | --- | --- | --- | --- | --- | --- | --- |
| 51 | 6131 | 67 | 43 | 124 | 10 | 9 | 2 | 830 |
| 52 | 6316 | 69 | 44 | 124 | 10 | 9 | 2 | 845 |
| 53 | 6503 | 69 | 45 | 124 | 10 | 9 | 2 | 860 |
| 54 | 6694 | 71 | 46 | 124 | 10 | 9 | 2 | 875 |
| 55 | 6887 | 72 | 46 | 124 | 10 | 10 | 2 | 890 |
| 56 | 7084 | 73 | 48 | 124 | 11 | 10 | 2 | 905 |
| 57 | 7283 | 74 | 48 | 124 | 11 | 10 | 2 | 920 |
| 58 | 7486 | 75 | 49 | 124 | 11 | 10 | 2 | 935 |
| 59 | 7691 | 76 | 50 | 124 | 11 | 10 | 2 | 950 |
| 60 | 7900 | 77 | 50 | 125 | 11 | 10 | 3 | 965 |
| Lv | HP | STR | MAG | VIT | SPR | SPD | EVA | EXP |
| --- | --- | --- | --- | --- | --- | --- | --- | --- |
| 61 | 8111 | 78 | 51 | 125 | 11 | 10 | 3 | 980 |
| 62 | 8326 | 79 | 52 | 125 | 11 | 10 | 3 | 995 |
| 63 | 8543 | 80 | 53 | 125 | 11 | 10 | 3 | 1010 |
| 64 | 8764 | 81 | 54 | 125 | 12 | 10 | 3 | 1025 |
| 65 | 8987 | 82 | 54 | 125 | 12 | 11 | 3 | 1040 |
| 66 | 9214 | 83 | 55 | 125 | 12 | 11 | 3 | 1055 |
| 67 | 9443 | 84 | 56 | 125 | 12 | 11 | 3 | 1070 |
| 68 | 9676 | 85 | 56 | 125 | 12 | 11 | 3 | 1085 |
| 69 | 9911 | 86 | 57 | 125 | 12 | 11 | 3 | 1100 |
| 70 | 10150 | 87 | 58 | 125 | 12 | 11 | 3 | 1115 |
| Lv | HP | STR | MAG | VIT | SPR | SPD | EVA | EXP |
| --- | --- | --- | --- | --- | --- | --- | --- | --- |
| 71 | 10391 | 88 | 58 | 125 | 12 | 11 | 3 | 1130 |
| 72 | 10636 | 89 | 60 | 126 | 13 | 11 | 3 | 1145 |
| 73 | 10883 | 90 | 60 | 126 | 13 | 11 | 3 | 1160 |
| 74 | 11134 | 91 | 61 | 126 | 13 | 11 | 3 | 1175 |
| 75 | 11387 | 92 | 61 | 126 | 13 | 12 | 3 | 1190 |
| 76 | 11644 | 93 | 62 | 126 | 13 | 12 | 3 | 1205 |
| 77 | 11903 | 94 | 63 | 126 | 13 | 12 | 3 | 1220 |
| 78 | 12166 | 95 | 64 | 126 | 13 | 12 | 3 | 1235 |
| 79 | 12431 | 96 | 64 | 126 | 13 | 12 | 3 | 1250 |
| 80 | 12700 | 97 | 65 | 126 | 14 | 12 | 3 | 1265 |
| Lv | HP | STR | MAG | VIT | SPR | SPD | EVA | EXP |
| --- | --- | --- | --- | --- | --- | --- | --- | --- |
| 81 | 12971 | 98 | 66 | 126 | 14 | 12 | 3 | 1280 |
| 82 | 13246 | 99 | 67 | 126 | 14 | 12 | 3 | 1295 |
| 83 | 13523 | 100 | 67 | 126 | 14 | 12 | 3 | 1310 |
| 84 | 13804 | 101 | 68 | 127 | 14 | 12 | 4 | 1325 |
| 85 | 14087 | 102 | 68 | 127 | 14 | 13 | 4 | 1340 |
| 86 | 14374 | 103 | 69 | 127 | 14 | 13 | 4 | 1355 |
| 87 | 14663 | 104 | 70 | 127 | 14 | 13 | 4 | 1370 |
| 88 | 14956 | 105 | 71 | 127 | 15 | 13 | 4 | 1385 |
| 89 | 15251 | 105 | 71 | 127 | 15 | 13 | 4 | 1400 |
| 90 | 15550 | 107 | 72 | 127 | 15 | 13 | 4 | 1415 |
| Lv | HP | STR | MAG | VIT | SPR | SPD | EVA | EXP |
| --- | --- | --- | --- | --- | --- | --- | --- | --- |
| 91 | 15851 | 107 | 73 | 127 | 15 | 13 | 4 | 1430 |
| 92 | 16156 | 108 | 73 | 127 | 15 | 13 | 4 | 1445 |
| 93 | 16463 | 109 | 74 | 127 | 15 | 13 | 4 | 1460 |
| 94 | 16774 | 110 | 75 | 127 | 15 | 13 | 4 | 1475 |
| 95 | 17087 | 111 | 75 | 127 | 15 | 14 | 4 | 1490 |
| 96 | 17404 | 112 | 76 | 128 | 16 | 14 | 4 | 1505 |
| 97 | 17723 | 113 | 77 | 128 | 16 | 14 | 4 | 1520 |
| 98 | 18046 | 114 | 77 | 128 | 16 | 14 | 4 | 1535 |
| 99 | 18371 | 115 | 78 | 128 | 16 | 14 | 4 | 1550 |
| 100 | 18700 | 116 | 79 | 128 | 16 | 14 | 4 | 1565 |
The Armadodo is an enemy from Final Fantasy VIII. It is an armadillo-like creature with a thick shell on its back.
The player can draw basic defensive spells from it, along with Quake.
When attacked with a powerful blow, Armadodo will fall over. It will get up after four turns unless it is defeated first.
Armadodo Card

Element
Earth
Refine
1 refines into 1 Dino Bone
Drop
Armadodo
Card
Armadodo
Level 3 (Monster Card)
Win
N/A
Other appearances
Edit

This article or section is a stub about an enemy in Final Fantasy Record Keeper. You can help the Final Fantasy Wiki by expanding it.
Etymology
Edit
[view · edit · purge]Armadillos are New World placental mammals with a leathery armor shell. The word armadillo means "little armored one" in Spanish. About 10 extant genera and 20 extant species of armadillo have been described, some of which are distinguished by the number of bands on their armor. All species are native to the Americas, where they inhabit a variety of environments.