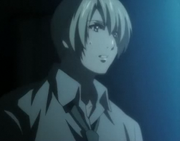 Arkham is a character in the On the Way to a Smile novella "Case of Denzel". He is referred to as "Mr. Arkham" at first, and his first name is not specified. He works for Denzel's father Abel.
When Sector 7 is being evacuated, Abel takes Denzel to Arkham at the edge of the sector and tells Arkham to take Denzel to Sector 5, then goes back to search for Denzel's mother Chloe. After Sector 7 is destroyed and Abel and Chloe are killed, Arkham leaves a note for Denzel in his new home, telling Denzel he will check on him regularly. Arkham is not mentioned in the novella again.
Ad blocker interference detected!
Wikia is a free-to-use site that makes money from advertising. We have a modified experience for viewers using ad blockers

Wikia is not accessible if you've made further modifications. Remove the custom ad blocker rule(s) and the page will load as expected.