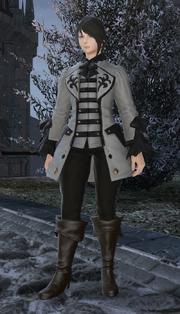 Ardashir is a non-playable character from Final Fantasy XIV, first appears in version 3.15 in the Anima Weapon quest line.
Appearance
Edit
Adashir is a male midlander hyur who looks like a woman sometimes. He has ponytail hairstyle that was originated as a female character haircut. His height is even shorter than the shortest level that female midlander hyur player characters can be. He wears a grey bliaud, black trousers, darkbrown high-heeled boots, and a pair of earrings.
Personality
Edit
Etymology
Edit
Ardashir was the name of the emperor and the founder of the Sasanian Empire (part of Iran today) from 224–242 AD.
Ad blocker interference detected!
Wikia is a free-to-use site that makes money from advertising. We have a modified experience for viewers using ad blockers

Wikia is not accessible if you've made further modifications. Remove the custom ad blocker rule(s) and the page will load as expected.