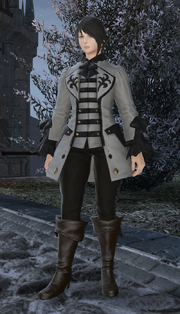 Ardashir is a non-playable character from Final Fantasy XIV, first appears in version 3.15 in the Anima Weapon quest line.
Appearance
Edit
Adashir is a male midlander hyur who looks like a woman sometimes. He has ponytail hairstyle that was originated as a female character haircut. His height is even shorter than the shortest level that female midlander hyur player characters can be. He wears a grey bliaud, black trousers, darkbrown high-heeled boots, and a pair of earrings.
Personality
Edit
Etymology
Edit
Ardashir was the name of the emperor and the founder of the Sasanian Empire (part of Iran today) from 224–242 AD.