Ad blocker interference detected!
Wikia is a free-to-use site that makes money from advertising. We have a modified experience for viewers using ad blockers

Wikia is not accessible if you've made further modifications. Remove the custom ad blocker rule(s) and the page will load as expected.
White Mage:

Life's refreshing breeze, blow in energy! Cure!

This article can be improved in areas such as grammar, style, formatting, and spelling.
Please refer to the

Manual of Style

or

Editing Help

to get started.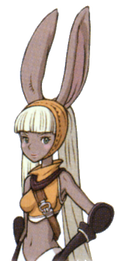 Viera huntress who stalks her prey from afar.
—Description
The Archer is a viera Sky Pirate job from Final Fantasy XII: Revenant Wings. It is a Ranged unit, and its abilities are similar to the playable character Fran.
Some of the Archer's unique skills are the Camouflage ability, which renders all of its group members Invisible, and Remedy.

| Skill | Effect |
| --- | --- |
| Bows | Basic - Deal ranged damage to one foe. |
| Shadowbind | Inflict Immobilize on one foe. |
| Steady Shot | Increases group's ranged attack. |
| Camouflage | Render user's group Invisible. |
| Barrage | Deal ranged damage to one foe with successive shots. |
| Remedy | Remove debuffs from one ally. |
| Rejuvenate | Passive - Increases group's Speed. |
Missions
Edit
Final Fantasy XII: Revenant Wings Enemy
Venerer Emeritus
({{{japan}}},

{{{romaji}}}

?)
Level
HP
7
329
Str
Mag
Stm
Mnd
65
57
65
62
Atk
MAtk
Def
MDef
36
24
31
30
Speed
AtkSpd
MvSpd
Sight
81
63
0.714
4
| | |
| --- | --- |
| Location | {{{Location}}} |
| Type | Ranged |
| Nature | None |
| Weak Against | None |
| Resistant to | None |
| Immune to | None |
Final Fantasy XII: Revenant Wings Enemy
Heartless Huntress
({{{japan}}},

{{{romaji}}}

?)
Level
HP
11
357
Str
Mag
Stm
Mnd
85
73
85
78
Atk
MAtk
Def
MDef
41
28
36
34
Speed
AtkSpd
MvSpd
Sight
107
63
0.714
4
| | |
| --- | --- |
| Location | {{{Location}}} |
| Type | Ranged |
| Nature | None |
| Weak Against | None |
| Resistant to | None |
| Immune to | None |
Final Fantasy XII: Revenant Wings Enemy
Daydreaming Sky Pirate, Expectant Archer
({{{japan}}},

{{{romaji}}}

?)
Level
HP
15
385
Str
Mag
Stm
Mnd
105
89
105
89
Atk
MAtk
Def
MDef
56
37
48
44
Speed
AtkSpd
MvSpd
Sight
134
64
0.714
4
| | |
| --- | --- |
| Location | {{{Location}}} |
| Type | Ranged |
| Nature | Fire |
| Weak Against | Water |
| Resistant to | Fire |
| Immune to | None |
Final Fantasy XII: Revenant Wings Enemy
Patrolling Sky Pirate, Bellicose Sky Pirate, Exacting Lookout
({{{japan}}},

{{{romaji}}}

?)
Level
HP
14
378
Str
Mag
Stm
Mnd
100
85
100
85
Atk
MAtk
Def
MDef
55
36
47
43
Speed
AtkSpd
MvSpd
Sight
127
64
0.714
4
| | |
| --- | --- |
| Location | {{{Location}}} |
| Type | Ranged |
| Nature | Fire |
| Weak Against | Water |
| Resistant to | Fire |
| Immune to | None |
Final Fantasy XII: Revenant Wings Enemy
Wanting Sky Pirate
({{{japan}}},

{{{romaji}}}

?)
Level
HP
38
546
Str
Mag
Stm
Mnd
220
181
220
181
Atk
MAtk
Def
MDef
145
90
115
105
Speed
AtkSpd
MvSpd
Sight
286
69
0.714
4
| | |
| --- | --- |
| Location | {{{Location}}} |
| Type | Ranged |
| Nature | None |
| Weak Against | None |
| Resistant to | Thunder |
| Immune to | None |
Final Fantasy XII: Revenant Wings Enemy
Headhunting Sky Pirate
({{{japan}}},

{{{romaji}}}

?)
Level
HP
13
371
Str
Mag
Stm
Mnd
95
81
95
81
Atk
MAtk
Def
MDef
53
35
45
42
Speed
AtkSpd
MvSpd
Sight
121
63
0.714
3.5
| | |
| --- | --- |
| Location | {{{Location}}} |
| Type | Ranged |
| Nature | Fire |
| Weak Against | Water |
| Resistant to | Fire |
| Immune to | None |
Final Fantasy XII: Revenant Wings Enemy
Well-Traveled Archer
({{{japan}}},

{{{romaji}}}

?)
Level
HP
20
420
Str
Mag
Stm
Mnd
130
109
135
109
Atk
MAtk
Def
MDef
72
47
63
57
Speed
AtkSpd
MvSpd
Sight
167
65
0.714
None
| | |
| --- | --- |
| Location | {{{Location}}} |
| Type | Ranged |
| Nature | Water |
| Weak Against | None |
| Resistant to | None |
| Immune to | None |
Final Fantasy XII: Revenant Wings Enemy
Archer
({{{japan}}},

{{{romaji}}}

?)
Level
HP
Party's average level -2
280 - 973
Str
Mag
Stm
Mnd
30 - 525
29 - 425
30 - 525
29 - 425
Atk
MAtk
Def
MDef
57 - 181
32 - 131
44 - 168
44 - 134
Speed
AtkSpd
MvSpd
Sight
32 - 626
30
0.714
4
| | |
| --- | --- |
| Location | {{{Location}}} |
| Type | Ranged |
| Nature | None |
| Weak Against | Fire |
| Resistant to | Water |
| Immune to | None |