Final Fantasy X-2 Enemy
Archaeothyris
アーケオシリス (Ākeoshirisu)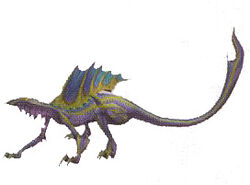 Reptile
Statistics
Level
HP
MP
32
1,332
58
Strength
Magic
Defense
36
17
33
M. Defense
Agility
Accuracy
5
85
0
Evasion
Luck
35
8
EXP
AP
Gil
188
1
110
Archaeothyris
アーケオシリス (Ākeoshirisu)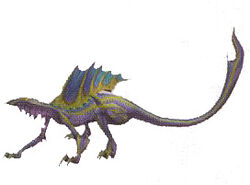 Reptile
Statistics
Level
HP
MP
38
3,230
58
Strength
Magic
Defense
36
17
44
M. Defense
Agility
Accuracy
5
102
0
Evasion
Luck
44
10
EXP
AP
Gil
334
2
198
The Archaeothyris is an enemy from Final Fantasy X-2. Its low Magic Defense and weakness to Ice make it an easy foe to deal with. However, be on guard with Softs as it can inflict Petrify, and carry lots of Antidotes as well to counteract Poison Fang.
Fiend Tale
Edit
In the Fiend Tale endings, a notable Archaeothyris was created from spirit of the know-it-all owner of the Blitzball Bar in Luca. Though he expected it to be closed since his passing, Archaeothyris finds his friends are running the tavern in his place. Departing to the Farplane, Archaeothyris gives a final lecture to his friends to care for the bar.
Etymology
Edit
[view · edit · purge]Archaeothyris was an amniote which lived 320 million years ago, in the Middle Carboniferous period. It is the oldest undisputed synapsid known. It was found in Nova Scotia, the same locality as Hylonomus, and Petrolacosaurus, all of which resemble Archaeothyris.
Related enemies
Edit
Ad blocker interference detected!
Wikia is a free-to-use site that makes money from advertising. We have a modified experience for viewers using ad blockers

Wikia is not accessible if you've made further modifications. Remove the custom ad blocker rule(s) and the page will load as expected.