Arcane Magick
Talk

0
13,963 pages on
this wiki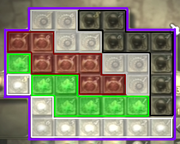 Arcane Magick (裏魔法, ura mahō?, lit. "Nether Magic") is a type of magick that deals with direct damage or negative Statuses that distort the judgment of either ally or foe.
They have been classified in previous Final Fantasy titles as Black Magic, and in Final Fantasy X-2 as the main set of abilities for the Dark Knight, though only labeled as Arcana.
Appearances
Edit
Main article: Arcane Magicks (Final Fantasy XII)
Arcane Magicks spells inflict direct damage or negative Statuss that distort the judgment of either ally or foe.
In the International Zodiac Job System version, Arcane Magick can only be used by the Red Mage job. Many Arcane Magick have been moved into the Time Magick category. Also, the powerful Fire-elemental spell, Ardor, has been moved into the Arcane Magick category.
Ultima, the High Seraph primary skillset.
The formula for damage is as follows:

PS Name
PSP Name
Description
MP Cost
Range
Effect
Speed
Ultima
Magick that inflicts damage with pure energy.
Quote: "Open 7 doors to reach the tower of power! Ultima!"
40
4
3
10
Arcane Magick is the skillset of the Arcanist. The spells that comprise it focus primarily on spells attuned with Gravity and Darkness, and include several spells dependent on level.
| Skill | Weapon Learned From | Effect | Range | AP To Master | MP Use |
| --- | --- | --- | --- | --- | --- |
| Syphon | Terre Rod | Drains MP from a unit; User regains HP equal to amount drained. | 4 | 300 | 12 |
| Death | Heretic Rod | Instant Death on a unit (fully heals undead). | 3 | 450 | 16 |
| Gravity | Force Rod | Deals damage equal to 1/4 of target's current HP. | 3 | 250 | 12 |
| Drain | Sleet Rod | Drains HP from a unit; User regains HP equal to damage dealt. | 4 | 300 | 12 |
| Graviga | Stardust Rod | Deals damage equal to half of target's current HP. | 3 | 450 | 22 |
| Lv.3 Dark | Flame Rod | Dark-elemental damage to all units with level that is a multiple of 3. | All possible units | 450 | 8 |
| Lv.5 Haste | Lilith Rod | Bestows Haste to all units with level that is a multiple of 5. | All possible units | 450 | 8 |
| Lv.? Shadow Flare | Bomb Arm | Dark damage to units with same last digit in their level as caster. Also effects caster. | All possible units | 450 | 20 |
References
Edit