Cid:

Oh, shut up and help me remodel the Arcane Labyrinth/Magic and Spirits page!

Please expand this article into a full one. This can be done by adding enemy encounters. This request can be discussed on the associated

discussion page

.
Below lies information regarding Arcane Labyrinth floors whose keywords are categorized under "Magic and Spirits".
Tracking
Edit
| Item | Quality |
| --- | --- |
| Hi-Potion | Good |
| Potion | Good |
| Potion | Good |
| Antidote | Normal |
| Hi-Potion | Normal |
| Potion | Normal |
| Potion | Bad |
| Antidote | Bad |
| Antidote | Bad |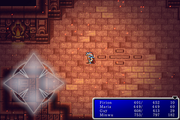 | Item | Quality |
| --- | --- |
| Life Tome | Good |
| Shell Tome | Good |
| Stun Tome | Good |
| Unicorn Horn | Good |
| Giant's Helm | Good |
| Thief's Gloves | Good |
| Phoenix Down | Normal |
| Hi-Potion | Normal |
| Hi-Potion | Normal |
| Mythril Helm | Normal |
| Garlic | Normal |
| Mythril Axe | Normal |
| Gold Needle | Bad |
| Maiden's Kiss | Bad |
| Mallet | Bad |
| Antidote | Bad |
| Leather Cap | Bad |
| Hi-Potion | Bad |
Goddess's Bell
Edit
| Item | Quality |
| --- | --- |
| Slow Tome | Good |
| Teleport Tome | Good |
| Golden Shield | Good |
| Ether | Good |
| Warp Tome | Normal |
| Life Tome | Normal |
| Mallet | Normal |
| Hi-Potion | Normal |
| Conch Shell | Bad |
| Buckler | Bad |
| Blizzard Tome | Bad |
| Potion | Bad |
Darkness
Edit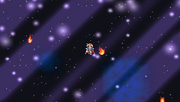 | Item | Quality |
| --- | --- |
| Death Idol | Good |
| Saint's Spirit | Good |
| Bell of Silence | Normal |
| Hellfire | Normal |
| Hourglass | Bad |
| Spider's Silk | Bad |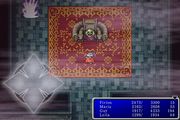 | Item | Quality |
| --- | --- |
| 900 Gil | Good |
| 2500 Gil | Good |
| 1000 Gil | Good |
| 800 Gil | Normal |
| 500 Gil | Normal |
| 2000 Gil | Normal |
| 100 Gil | Bad |
| 250 Gil | Bad |
| 700 Gil | Bad |
Authority
Edit
| Item | Quality |
| --- | --- |
| Giant's Gloves | Good |
| Sage's Wisdom | Good |
| Death Idol | Good |
| Thief's Gloves | Normal |
| Saint's Spirit | Normal |
| Ether | Normal |
| Fear Tome | Bad |
| Esuna Tome | Bad |
| Gold Needle | Bad |
Ekmet Teloess
Edit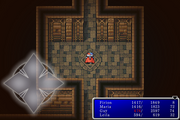 | Item | Quality |
| --- | --- |
| Phoenix Down | Good |
| Unicorn Horn | Good |
| Ogrekiller | Good |
| Hi-Potion | Normal |
| Gold Needle | Normal |
| Ether | Normal |
| Conch Shell | Bad |
| Potion | Bad |
| Conch Shell | Bad |
Ultima Tome
Edit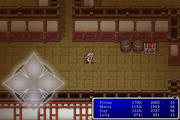 | Item | Quality |
| --- | --- |
| Gaia Drum | Good |
| Wizard's Staff | Good |
| Ether | Good |
| Holy Tome | Good |
| Antarctic Wind | Normal |
| Power Staff | Normal |
| Hi-Potion | Normal |
| Sap Tome | Normal |
| Unicorn Horn | Bad |
| Werebuster | Bad |
| Potion | Bad |
| Thunder Tome | Bad |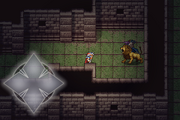 | Item | Quality |
| --- | --- |
| Cottage | Good |
| Sage's Wisdom | Good |
| Life Tome | Good |
| Ether | Normal |
| Hi-Potion | Normal |
| Esuna Tome | Normal |
| Garlic | Bad |
| Conch Shell | Bad |
| Potion | Bad |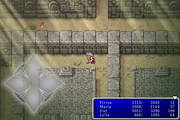 | Item | Quality |
| --- | --- |
| Cottage | Good |
| Orichalcum | Good |
| Life Tome | Good |
| Drain Tome | Good |
| Osmose Tome | Good |
| Phoenix Down | Good |
| Cure Tome | Normal |
| Phoenix Down | Normal |
| Mythril Knife | Normal |
| Phoenix Down | Normal |
| Drain Tome | Normal |
| Hi-Potion | Normal |
| Hi-Potion | Bad |
| Cure Tome | Bad |
| Knife | Bad |
| Potion | Bad |
| Cure Tome | Bad |
| Potion | Bad |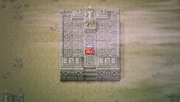 | Item | Quality |
| --- | --- |
| 1000 Gil | Good |
| 2000 Gil | Good |
| 500 Gil | Good |
| 500 Gil | Normal |
| 1400 Gil | Normal |
| 300 Gil | Normal |
| 200 Gil | Bad |
| 500 Gil | Bad |
| 50 Gil | Bad |
| Item | Quality |
| --- | --- |
| Elixir | Good |
| Poison Axe | Good |
| Power Sash | Good |
| Hi-Potion | Normal |
| Ogrekiller | Normal |
| Saint's Spirit | Normal |
| Potion | Bad |
| Ruby Cuirass | Bad |
| Antidote | Bad |