Cid:

Oh, shut up and help me remodel the Arcane Labyrinth/Magic and Spirits page!

Please expand this article into a full one This can be done by adding enemy encounters to the article. This request can be discussed on the associated discussion page. Remove this notice upon completion.
Below lies information regarding Arcane Labyrinth floors whose keywords are categorized under "Magic and Spirits".
Tracking
Edit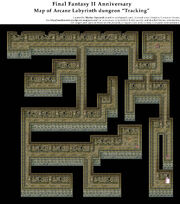 Treasure
| Item | Quality |
| --- | --- |
| Hi-Potion | Good |
| Potion | Good |
| Potion | Good |
| Antidote | Normal |
| Hi-Potion | Normal |
| Potion | Normal |
| Potion | Bad |
| Antidote | Bad |
| Antidote | Bad |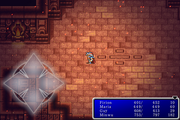 Treasure
| Item | Quality |
| --- | --- |
| Life Tome | Good |
| Shell Tome | Good |
| Stun Tome | Good |
| Unicorn Horn | Good |
| Giant's Helm | Good |
| Thief's Gloves | Good |
| Phoenix Down | Normal |
| Hi-Potion | Normal |
| Hi-Potion | Normal |
| Mythril Helm | Normal |
| Garlic | Normal |
| Mythril Axe | Normal |
| Gold Needle | Bad |
| Maiden's Kiss | Bad |
| Mallet | Bad |
| Antidote | Bad |
| Leather Cap | Bad |
| Hi-Potion | Bad |
Goddess's Bell
Edit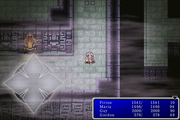 Obtained: Ask about Sunfire to King of Fynn.
Task: Find the soul.
Reward: Dense Fog keyword.
Tileset: Mysidian Tower
Treasure
| Item | Quality |
| --- | --- |
| Slow Tome | Good |
| Teleport Tome | Good |
| Golden Shield | Good |
| Ether | Good |
| Warp Tome | Normal |
| Life Tome | Normal |
| Mallet | Normal |
| Hi-Potion | Normal |
| Conch Shell | Bad |
| Buckler | Bad |
| Blizzard Tome | Bad |
| Potion | Bad |
Darkness
Edit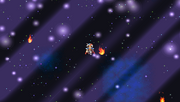 Treasure
| Item | Quality |
| --- | --- |
| Death Idol | Good |
| Saint's Spirit | Good |
| Bell of Silence | Normal |
| Hellfire | Normal |
| Hourglass | Bad |
| Spider's Silk | Bad |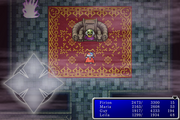 Obtained: Tundra floor.
Task: Give the King a Gold Needle, Golden Shield, Golden Armor and Golden Cuirass.
Reward: Authority keyword.
Tileset: Cyclone
Treasure
| Item | Quality |
| --- | --- |
| 900 Gil | Good |
| 2500 Gil | Good |
| 1000 Gil | Good |
| 800 Gil | Normal |
| 500 Gil | Normal |
| 2000 Gil | Normal |
| 100 Gil | Bad |
| 250 Gil | Bad |
| 700 Gil | Bad |
Authority
Edit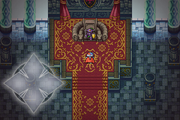 Obtained: Greed floor.
Task: Give the King a Saint's Spirit and a Sage's Wisdom.
Reward: Hint on Woodlands floor.
Tileset: Cyclone
Treasure
| Item | Quality |
| --- | --- |
| Giant's Gloves | Good |
| Sage's Wisdom | Good |
| Death Idol | Good |
| Thief's Gloves | Normal |
| Saint's Spirit | Normal |
| Ether | Normal |
| Fear Tome | Bad |
| Esuna Tome | Bad |
| Gold Needle | Bad |
Ekmet Teloess
Edit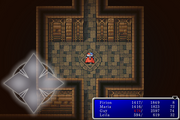 Obtained: Ask Hilda about Mask at Castle Fynn.
Task: Use the keyword on the Soldier and beat a Dark Behemoth.
Reward: Woodlands keyword.
Tileset: Coliseum
Treasure
| Item | Quality |
| --- | --- |
| Phoenix Down | Good |
| Unicorn Horn | Good |
| Ogrekiller | Good |
| Hi-Potion | Normal |
| Gold Needle | Normal |
| Ether | Normal |
| Conch Shell | Bad |
| Potion | Bad |
| Conch Shell | Bad |
Ultima Tome
Edit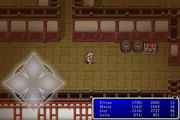 Treasure
| Item | Quality |
| --- | --- |
| Gaia Drum | Good |
| Wizard's Staff | Good |
| Ether | Good |
| Holy Tome | Good |
| Antarctic Wind | Normal |
| Power Staff | Normal |
| Hi-Potion | Normal |
| Sap Tome | Normal |
| Unicorn Horn | Bad |
| Werebuster | Bad |
| Potion | Bad |
| Thunder Tome | Bad |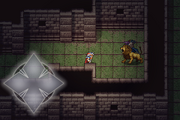 Treasure
| Item | Quality |
| --- | --- |
| Cottage | Good |
| Sage's Wisdom | Good |
| Life Tome | Good |
| Ether | Normal |
| Hi-Potion | Normal |
| Esuna Tome | Normal |
| Garlic | Bad |
| Conch Shell | Bad |
| Potion | Bad |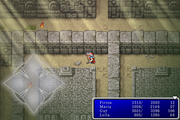 Treasure
| Item | Quality |
| --- | --- |
| Cottage | Good |
| Orichalcum | Good |
| Life Tome | Good |
| Drain Tome | Good |
| Osmose Tome | Good |
| Phoenix Down | Good |
| Cure Tome | Normal |
| Phoenix Down | Normal |
| Mythril Knife | Normal |
| Phoenix Down | Normal |
| Drain Tome | Normal |
| Hi-Potion | Normal |
| Hi-Potion | Bad |
| Cure Tome | Bad |
| Knife | Bad |
| Potion | Bad |
| Cure Tome | Bad |
| Potion | Bad |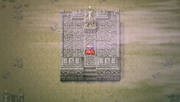 Treasure
| Item | Quality |
| --- | --- |
| 1000 Gil | Good |
| 2000 Gil | Good |
| 500 Gil | Good |
| 500 Gil | Normal |
| 1400 Gil | Normal |
| 300 Gil | Normal |
| 200 Gil | Bad |
| 500 Gil | Bad |
| 50 Gil | Bad |
Treasure
| Item | Quality |
| --- | --- |
| Elixir | Good |
| Poison Axe | Good |
| Power Sash | Good |
| Hi-Potion | Normal |
| Ogrekiller | Normal |
| Saint's Spirit | Normal |
| Potion | Bad |
| Ruby Cuirass | Bad |
| Antidote | Bad |