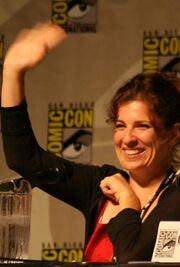 April Stewart (born February 8th, 1968) is an American voice actress. She is the voice for Lucrecia Crescent in Dirge of Cerberus -Final Fantasy VII- and Mjrn in Final Fantasy XII.
Background
Edit
Outside of the series, Stewart is best known for voicing numerous female characters in animated comedy series South Park. She is also the voice of Empress Jessamine in Dishonored and Selvaria Bles in Valkyria Chronicles.
External links
Edit
Ad blocker interference detected!
Wikia is a free-to-use site that makes money from advertising. We have a modified experience for viewers using ad blockers

Wikia is not accessible if you've made further modifications. Remove the custom ad blocker rule(s) and the page will load as expected.