Apollo Harp
Talk

1
13,961 pages on
this wiki
Relm

: I couldn't miss the chance to practice my drawing!
This article is in need of a few pictures. Perhaps you can help by

uploading

and adding a picture or two.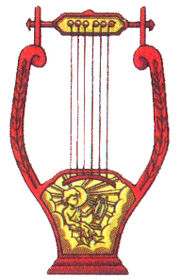 "Harp immersed in the power of the sun."
—Description, Final Fantasy IV.
Apollo Harp (アポロンのハープ, Aporon no Haapu?), also known as Apolon Harp, is a recurring weapon in the series. It is often one of the strongest harps and is often the best weapon for the Bard Job class.
Appearances
Edit
The Apollo Harp is the strongest harp in the game, and can only be used by Bards and Onion Knights. It provides 60 Attack and +10 Mind, and inflicts Silence. It is found in the forbidden land, Eureka.

Apollo's Harp is the weakest of the three harps introduce in the Advance and The Complete Collection. These weapons are exclusive for Edward, only found in the Cave of Trials. It provides 98 Attack, 40 Accuracy, as well as +15 Strength, Spirit, and Agility, and is Fire-elemental. It also deals extra damage when used against dragons. It is guarded by the Gigas Worm.
The Apollo's Harp returns in The After Years. It is still inferior to the Loki Harp. Apollo's Harp is found in the True Moon's Subterrane.
"Harp effective against dragons and undead. Must be used two-handed. Full power from back row."
—Description
Apollo's Harp is the strongest harp in the game for the Bard class, and is one of the 12 Sealed Weapons. It casts a spell of 75 base power when attacking, and does x8 damage to undead and dragons, making it an effective weapon against Shinryu. (For goblin punch purposes, it has an menu battle power of 45.)
Apollo's Harp can be found from the 90th floor of the Moonsand Ruins. It is one of the few possible treasures there, the contents of the treasure is random. Apollo's Harp has Attack +17 and Mag Attack +17.
Apollo's Harp is a weapon with 75 Attack, adds 20 Accuracy onto the character's original Accuracy, and it costs 25700 gil to purchase. It also ignores rows and may cause Paralyze on the target.

Apollo's Harp is a level 92 instrument that provides +61 Attack, +2 Defense, and EX Core Absorption +20%.
Apollo's Harp returns as a level 90 Instrument that provides -35 Bravery, +63 Attack, +1 Defense, and +15% EX Core Absorption. It can be obtained by using 148,800 gil, Madhura Harp, Elder Log, and five Harlequin's Hopes.
"This elegant harp produces sounds so beautiful they hurt--literally."
—Description
Apollo Harp grants +15 to Attack. It can be equipped by Geomancer, Bard, Moogle, and Pig.
Etymology
Edit
Apollo is a Greek god recognized as, among other things, the god of poetry, music, and the arts.