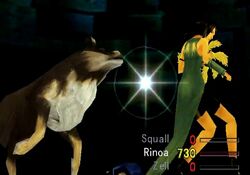 Angelo Recover (アンジェロリカバー, Anjero Rikabā?) is a recurring ability in the Final Fantasy series. It is a Limit Break ability used exclusively by Rinoa Heartilly.
Appearances
Edit
VIII Angelo Recover is a Limit Break for Rinoa, learned by walking 200 steps after reading Pet Pals Vol. 2. It restores one ally's HP by 62.5% of their Max HP if their HP is below 25% Max HP, and will only activate if Rinoa is hit by an enemy (6.6% chance) or if there is 13.3 seconds or more of dead time (3.3% chance).
FFRK Angelo Recover is a Record Materia for Rinoa, acquired by breaking her first level cap. When the equipped character attacks, they have a moderate chance to recover some HP.

This article or section is a stub about an ability in Final Fantasy Brave Exvius. You can help the Final Fantasy Wiki by expanding it.

This gallery is incomplete and requires Final Fantasy Brave Exvius added. You can help the Final Fantasy Wiki by uploading images.