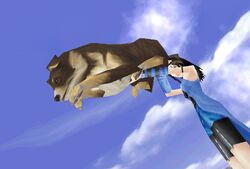 Angelo Cannon (アンジェロキャノン, Anjero Kyanon?) is a recurring ability in the series. It is a trademark ability of Rinoa Heartilly, which involves her shooting her pet Angelo at the enemy party.
Appearances
Edit
VIII Angelo Cannon is one of Rinoa's default Limit Break. It deals medium physical non-elemental damage to the enemy party with a base power of 72.
ATB Angelo Cannon is the ability that is used by Rinoa during battle.
Ad blocker interference detected!
Wikia is a free-to-use site that makes money from advertising. We have a modified experience for viewers using ad blockers

Wikia is not accessible if you've made further modifications. Remove the custom ad blocker rule(s) and the page will load as expected.