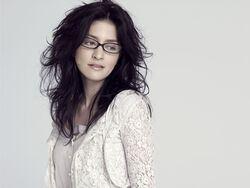 Angela Aki (アンジェラ・アキ, Anjera Aki?) is a Japanese singer and songwriter of Italian and American origins. She is known in the Final Fantasy community for her performance of the Final Fantasy XII theme song "Kiss Me Good-Bye", which is featured in both the game's original soundtrack and her third single Kiss Me Good-Bye.
She is also known to have sung the Final Fantasy VIII theme song "Eyes on Me" in her second single, Kokoro no Senshi.
External links
Edit
Ad blocker interference detected!
Wikia is a free-to-use site that makes money from advertising. We have a modified experience for viewers using ad blockers

Wikia is not accessible if you've made further modifications. Remove the custom ad blocker rule(s) and the page will load as expected.