Angeal Hewley
18,063 pages on
this wiki
Talk

32
Embrace your dreams. If you want to be a hero you need to have dreams... and honor.
—Angeal to Zack
Angeal Hewley (アンジール・ヒューレー, Anjīru Hyūrē?) is a 1st Class SOLDIER in Crisis Core -Final Fantasy VII-. He is Zack Fair's mentor and passes down the Buster Sword to him. He is stoic and serious, but with a playful side, giving Zack the nickname "Zack the Puppy."
Angeal is friends with fellow SOLDIER First Classes Sephiroth and Genesis and has a fan club dedicated to him called the Keepers of Honor.
Appearance
Edit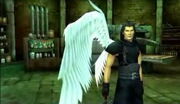 Angeal is a tall man with a broad and muscular structure. He has black hair slicked back except for two bangs on each side, in a style similar to that of his mother Gillian Hewley. Angeal wears a standard SOLDIER 1st Class uniform and carries a standard SOLDIER sword, along with his iconic Buster Sword, the latter of which he only uses on special occasions. Later, Angeal grows two white wings on his right side (one large wing on top and a small one underneath); their appearance troubles him, as he considers them traits of a monster. He is approximately 25 years old.

Personality
Edit
Use brings about wear, tear and rust. And that's a real waste.
—Angeal to Zack, about his Buster Sword
Angeal is moral and dedicated and takes pride in his membership in SOLDIER. He is honor-bound to protect as many people as he can, and nothing can stand between him and his honor and pride. He views the sword gifted to him by his family as a symbol of his dreams and honor, and therefore, to damage it would represent damage to his honor, and he refrains from using it. He has a sense of humor, calling Zack a puppy and calling himself cheap at times. According to emails from his fan club, Angeal's hobbies include gardening and cooking, and he has a soft spot for dogs. Angeal is an influential member of SOLDIER and many members revere him as a mentor and idol, the ideal SOLDIER operative and SOLDIER's spiritual leader. His influence passes on to Zack.
When he learns of the circumstances of his birth Angeal comes to resent his existence, feeling himself a monster unworthy of dignity or honor. He exiles himself from SOLDIER, but even through his self-deprecating talk, he still considers himself a SOLDIER at heart. Angeal has a stronger sense of justice than he lets on, wanting to help the entire planet and save the world from monsters, like the one he believed himself to have become.
Abilities
Edit
Main article: Angeal Penance
Angeal is fought as a boss in the form of Angeal Penance.
Digital Mind Wave
Edit
Zack has Angeal in his Digital Mind Wave since the beginning of the game and can use Angeal's Limit Break, Rush Assault, if three of Angeal's icons line up during a modulating phase. Rush Assault has two sequences of seven physical attacks and a final diving attack. Each of the three sequences has different power and can hit a different enemy. It ignores Vitality, the final hit inflicts Stun, and it may grant Endure. Emotion Gauge increases by 1 for Level 5 attack.

Creation and Development
Edit
Angeal was designed by Tetsuya Nomura, using elements from Cloud's initial design for Final Fantasy VII.[1]
Angeal is voiced by Kazuhiko Inoue in Japanese, and Josh Gilman in English.
Musical Themes
Edit
Angeal's theme can be considered to be "CRISIS CORE Theme - Dreams and Pride," which plays when he tells Zack about dumbapples in Wutai, and when Zack remembers Angeal in the Nibelheim Inn. It is a variation of the game's main theme, "CRISIS CORE Theme."

Other Appearances
Edit
Angeal appears in Final Fantasy Trading Card Game with his official render. His card is Thunder-elemental.

Etymology
Edit
Angeal's name is most likely derived from the Irish word for "angel," aingeal, tying into his white wings. [view  · edit  · purge]An angel is a supernatural being in various religions and mythologies. In Zoroastrianism and Abrahamic religions they are often depicted as benevolent celestial beings who act as intermediaries between Heaven and Earth, or as guardian spirits or a guiding influence. Other roles include protecting and guiding humans and carrying out God's tasks. The term "angel" has been expanded to various notions of spirits found in many other religious traditions. In art, angels are often depicted with bird-like wings, a halo, robes and glowing light.
A fallen angel is a wicked or rebellious angel that has been cast out of heaven.
Also tying into the Judeo-Christian traditions are Angeal Penance's special attacks, named after the Seven Deadly Sins: Unleashed Wrath, End of Gluttony, Wings of Pride, Charge of Greed, Thunder of Envy, Defense of Lust, and Rage of Sloth. [view  · edit  · purge]Penance is repentance of sins as well as the proper name of the Roman Catholic, Orthodox Christian, and Anglican Sacrament of Penance and Reconciliation/Confession.
Hewley derives from hyle. [view  · edit  · purge]Hyle, a Greek word, translates as "Materia" in Latin.
It is believed that the last Angeal Copy was born out of Angeal's will on the planet and that he controls it from within the Lifestream to continue helping Zack. This is foreshadowed when, after a Genesis Copy attack on Costa del Sol, Tseng speculates that Genesis might be controlling his copies from beyond the grave.
Out of those born from the Jenova Project, Angeal was the first and only one to have more than one wing and have them be a color other than black. Angeal is the only product of the Jenova Project who does not wish harm to others, so the white wings may symbolize retaining his honor. This may also be done in contrast to Genesis and Sephiroth who both have a single black wing, symbolizing fallen angels/Satan, while Angeal has two white wings, making him more akin to one of Heaven's angels.
The scenes of Angeal and Zack grabbing hands in Wutai and the ending FMV are reminiscent of Aerith and Cloud grabbing hands after Cloud's final confrontation with Sephiroth at the end of Final Fantasy VII, and during the fight against Bahamut SIN in Advent Children Complete.
The Crisis Core Complete Guide includes a developer interview where the interviewer asks about the identity of Angeal's father, and if the relationship between Hollander and Gillian is comparable to the relationship between Hojo and Lucrecia Crescent. The developers state Gillian married after being sent to Banora with Angeal, and Angeal was raised never knowing his mother's husband was not his biological father. The developers say the idea of a marital relationship between Hollander and Gillian is a secret, leaving the possibility open that Angeal's unidentified biological father could be Hollander.[2]
References
Edit