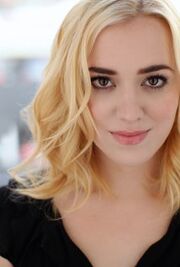 Andrea Bowen (born March 10th, 1990) is an American actress. She is the voice for Aerith Gainsborough in Crisis Core -Final Fantasy VII- and Dissidia 012 Final Fantasy.
Background
Edit
Outside of the series, Bowen is known for her recurring role as Julie Mayer in American drama series Desperate Housewives. She also voiced the young April Ryan in the adventure game The Longest Journey.
External links
Edit
Ad blocker interference detected!
Wikia is a free-to-use site that makes money from advertising. We have a modified experience for viewers using ad blockers

Wikia is not accessible if you've made further modifications. Remove the custom ad blocker rule(s) and the page will load as expected.