Anacondaur
ヘッジヴァイパー (

Hejji Vaipā

?)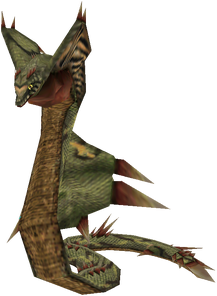 Statistics
Level
HP

2(Lv)² + 40(Lv) + 800

Level
HP

2(Lv)² + 40(Lv) + 800

1
842
19
2,282
STR

([5(Lv)] + [(Lv) / 10] - [(Lv)² / 360] + 70) / 4

MAG

([4.8(Lv)] + [(Lv) / 4] - [(Lv)² / 480] + 4) / 4

STR

([5(Lv)] + [(Lv) / 10] - [(Lv)² / 360] + 70) / 4

MAG

([4.8(Lv)] + [(Lv) / 4] - [(Lv)² / 480] + 4) / 4

18
2
41
24
VIT

((Lv) / 2) - (Lv) + (Lv) + 10

SPR

((Lv) / 3) - [(Lv) / 2] + (Lv) + 1

VIT

((Lv) / 2) - (Lv) + (Lv) + 10

SPR

((Lv) / 3) - [(Lv) / 2] + (Lv) + 1

10
2
19
17
SPD

((Lv) / 5) - [(Lv) / 10] + 10

EVA

((Lv) / 9) - [(Lv) / 18]

SPD

((Lv) / 5) - [(Lv) / 10] + 10

EVA

((Lv) / 9) - [(Lv) / 18]

10
0
12
1
EXP

10(Lv)² + 50

AP
EXP

10(Lv)² + 50

AP
60
4
240
4
Elemental affinities
50%
100%
200%
100%
100%
100%
-50%

Absorbs

100%
Damage
Restorative
Ground
Gravity
100%
Absorb
Damage
Damage
Anacondaur
ヘッジヴァイパー (

Hejji Vaipā

?)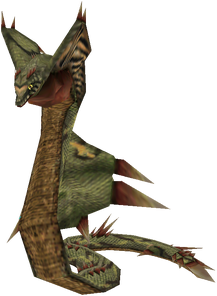 Statistics
Level
HP

2(Lv)² + 40(Lv) + 800

Level
HP

2(Lv)² + 40(Lv) + 800

20
2,400
29
3,642
STR

([5(Lv)] + [(Lv) / 10] - [(Lv)² / 360] + 70) / 4

MAG

([4.8(Lv)] + [(Lv) / 4] - [(Lv)² / 480] + 4) / 4

STR

([5(Lv)] + [(Lv) / 10] - [(Lv)² / 360] + 70) / 4

MAG

([4.8(Lv)] + [(Lv) / 4] - [(Lv)² / 480] + 4) / 4

42
26
53
37
VIT

((Lv) / 2) - (Lv) + (Lv) + 10

SPR

((Lv) / 3) - [(Lv) / 2] + (Lv) + 1

VIT

((Lv) / 2) - (Lv) + (Lv) + 10

SPR

((Lv) / 3) - [(Lv) / 2] + (Lv) + 1

20
17
24
25
SPD

((Lv) / 5) - [(Lv) / 10] + 10

EVA

((Lv) / 9) - [(Lv) / 18]

SPD

((Lv) / 5) - [(Lv) / 10] + 10

EVA

((Lv) / 9) - [(Lv) / 18]

12
1
13
2
EXP

10(Lv)² + 50

AP
EXP

10(Lv)² + 50

AP
250
4
340
4
Elemental affinities
50%
100%
200%
100%
100%
100%
-50%

Absorbs

100%
Damage
Restorative
Ground
Gravity
100%
Absorb
Damage
Damage
Anacondaur
ヘッジヴァイパー (

Hejji Vaipā

?)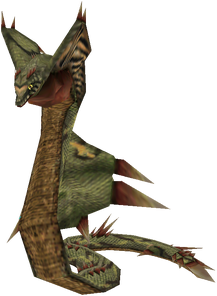 Statistics
Level
HP

2(Lv)² + 40(Lv) + 800

Level
HP

2(Lv)² + 40(Lv) + 800

30
3,800
100
24,800
STR

([5(Lv)] + [(Lv) / 10] - [(Lv)² / 360] + 70) / 4

MAG

([4.8(Lv)] + [(Lv) / 4] - [(Lv)² / 480] + 4) / 4

STR

([5(Lv)] + [(Lv) / 10] - [(Lv)² / 360] + 70) / 4

MAG

([4.8(Lv)] + [(Lv) / 4] - [(Lv)² / 480] + 4) / 4

55
38
138
122
VIT

((Lv) / 2) - (Lv) + (Lv) + 10

SPR

((Lv) / 3) - [(Lv) / 2] + (Lv) + 1

VIT

((Lv) / 2) - (Lv) + (Lv) + 10

SPR

((Lv) / 3) - [(Lv) / 2] + (Lv) + 1

25
26
60
84
SPD

((Lv) / 5) - [(Lv) / 10] + 10

EVA

((Lv) / 9) - [(Lv) / 18]

SPD

((Lv) / 5) - [(Lv) / 10] + 10

EVA

((Lv) / 9) - [(Lv) / 18]

13
2
20
6
EXP

10(Lv)² + 50

AP
EXP

10(Lv)² + 50

AP
350
4
1,050
4
Elemental affinities
50%
100%
200%
100%
100%
100%
-50%

Absorbs

100%
Damage
Restorative
Ground
Gravity
100%
Absorb
Damage
Damage
| Lv | HP | STR | MAG | VIT | SPR | SPD | EVA | EXP |
| --- | --- | --- | --- | --- | --- | --- | --- | --- |
| 1 | 842 | 18 | 2 | 10 | 2 | 10 | 0 | 60 |
| 2 | 888 | 20 | 3 | 11 | 2 | 10 | 0 | 70 |
| 3 | 938 | 21 | 4 | 11 | 4 | 10 | 0 | 80 |
| 4 | 992 | 22 | 6 | 12 | 4 | 10 | 0 | 90 |
| 5 | 1050 | 23 | 7 | 12 | 5 | 11 | 0 | 100 |
| 6 | 1112 | 25 | 8 | 13 | 6 | 11 | 0 | 110 |
| 7 | 1178 | 26 | 9 | 13 | 7 | 11 | 0 | 120 |
| 8 | 1248 | 27 | 11 | 14 | 7 | 11 | 0 | 130 |
| 9 | 1322 | 28 | 12 | 14 | 9 | 11 | 1 | 140 |
| 10 | 1400 | 30 | 13 | 15 | 9 | 11 | 1 | 150 |
| Lv | HP | STR | MAG | VIT | SPR | SPD | EVA | EXP |
| --- | --- | --- | --- | --- | --- | --- | --- | --- |
| 11 | 1482 | 31 | 14 | 15 | 10 | 11 | 1 | 160 |
| 12 | 1568 | 32 | 16 | 16 | 11 | 11 | 1 | 170 |
| 13 | 1658 | 34 | 17 | 16 | 12 | 11 | 1 | 180 |
| 14 | 1752 | 35 | 18 | 17 | 12 | 11 | 1 | 190 |
| 15 | 1850 | 36 | 19 | 17 | 14 | 12 | 1 | 200 |
| 16 | 1952 | 37 | 21 | 18 | 14 | 12 | 1 | 210 |
| 17 | 2058 | 39 | 22 | 18 | 15 | 12 | 1 | 220 |
| 18 | 2168 | 40 | 23 | 19 | 16 | 12 | 1 | 230 |
| 19 | 2282 | 41 | 24 | 19 | 17 | 12 | 1 | 240 |
| 20 | 2400 | 42 | 26 | 20 | 17 | 12 | 1 | 250 |
| Lv | HP | STR | MAG | VIT | SPR | SPD | EVA | EXP |
| --- | --- | --- | --- | --- | --- | --- | --- | --- |
| 21 | 2522 | 44 | 27 | 20 | 19 | 12 | 1 | 260 |
| 22 | 2648 | 45 | 28 | 21 | 19 | 12 | 1 | 270 |
| 23 | 2778 | 46 | 29 | 21 | 20 | 12 | 1 | 280 |
| 24 | 2912 | 47 | 31 | 22 | 21 | 12 | 1 | 290 |
| 25 | 3050 | 49 | 32 | 22 | 22 | 13 | 1 | 300 |
| 26 | 3192 | 50 | 33 | 23 | 22 | 13 | 1 | 310 |
| 27 | 3338 | 51 | 34 | 23 | 24 | 13 | 2 | 320 |
| 28 | 3488 | 52 | 36 | 24 | 24 | 13 | 2 | 330 |
| 29 | 3642 | 53 | 37 | 24 | 25 | 13 | 2 | 340 |
| 30 | 3800 | 55 | 38 | 25 | 26 | 13 | 2 | 350 |
| Lv | HP | STR | MAG | VIT | SPR | SPD | EVA | EXP |
| --- | --- | --- | --- | --- | --- | --- | --- | --- |
| 31 | 3962 | 56 | 39 | 25 | 27 | 13 | 2 | 360 |
| 32 | 4128 | 57 | 40 | 26 | 27 | 13 | 2 | 370 |
| 33 | 4298 | 58 | 42 | 26 | 29 | 13 | 2 | 380 |
| 34 | 4472 | 60 | 43 | 27 | 29 | 13 | 2 | 390 |
| 35 | 4650 | 61 | 44 | 27 | 30 | 14 | 2 | 400 |
| 36 | 4832 | 62 | 45 | 28 | 31 | 14 | 2 | 410 |
| 37 | 5018 | 63 | 47 | 28 | 32 | 14 | 2 | 420 |
| 38 | 5208 | 64 | 48 | 29 | 32 | 14 | 2 | 430 |
| 39 | 5402 | 66 | 49 | 29 | 34 | 14 | 2 | 440 |
| 40 | 5600 | 67 | 50 | 30 | 34 | 14 | 2 | 450 |
| Lv | HP | STR | MAG | VIT | SPR | SPD | EVA | EXP |
| --- | --- | --- | --- | --- | --- | --- | --- | --- |
| 41 | 5802 | 68 | 51 | 30 | 35 | 14 | 2 | 460 |
| 42 | 6008 | 70 | 53 | 31 | 36 | 14 | 2 | 470 |
| 43 | 6218 | 71 | 54 | 31 | 37 | 14 | 2 | 480 |
| 44 | 6432 | 72 | 55 | 32 | 37 | 14 | 2 | 490 |
| 45 | 6650 | 73 | 56 | 32 | 39 | 15 | 3 | 500 |
| 46 | 6872 | 74 | 57 | 33 | 39 | 15 | 3 | 510 |
| 47 | 7098 | 75 | 59 | 33 | 40 | 15 | 3 | 520 |
| 48 | 7328 | 77 | 60 | 34 | 41 | 15 | 3 | 530 |
| 49 | 7562 | 78 | 61 | 34 | 42 | 15 | 3 | 540 |
| 50 | 7800 | 79 | 62 | 35 | 42 | 15 | 3 | 550 |
| Lv | HP | STR | MAG | VIT | SPR | SPD | EVA | EXP |
| --- | --- | --- | --- | --- | --- | --- | --- | --- |
| 51 | 8042 | 80 | 63 | 35 | 44 | 15 | 3 | 560 |
| 52 | 8288 | 82 | 65 | 36 | 44 | 15 | 3 | 570 |
| 53 | 8538 | 83 | 66 | 36 | 45 | 15 | 3 | 580 |
| 54 | 8792 | 84 | 67 | 37 | 46 | 15 | 3 | 590 |
| 55 | 9050 | 85 | 68 | 37 | 47 | 16 | 3 | 600 |
| 56 | 9312 | 86 | 70 | 38 | 47 | 16 | 3 | 610 |
| 57 | 9578 | 87 | 71 | 38 | 49 | 16 | 3 | 620 |
| 58 | 9848 | 89 | 72 | 39 | 49 | 16 | 3 | 630 |
| 59 | 10122 | 90 | 73 | 39 | 50 | 16 | 3 | 640 |
| 60 | 10400 | 91 | 75 | 40 | 51 | 16 | 3 | 650 |
| Lv | HP | STR | MAG | VIT | SPR | SPD | EVA | EXP |
| --- | --- | --- | --- | --- | --- | --- | --- | --- |
| 61 | 10682 | 92 | 76 | 40 | 52 | 16 | 3 | 660 |
| 62 | 10968 | 94 | 77 | 41 | 52 | 16 | 3 | 670 |
| 63 | 11258 | 95 | 78 | 41 | 54 | 16 | 4 | 680 |
| 64 | 11552 | 96 | 79 | 42 | 54 | 16 | 4 | 690 |
| 65 | 11850 | 97 | 81 | 42 | 55 | 17 | 4 | 700 |
| 66 | 12152 | 98 | 81 | 43 | 56 | 17 | 4 | 710 |
| 67 | 12458 | 99 | 83 | 43 | 57 | 17 | 4 | 720 |
| 68 | 12768 | 101 | 84 | 44 | 57 | 17 | 4 | 730 |
| 69 | 13082 | 102 | 85 | 44 | 59 | 17 | 4 | 740 |
| 70 | 13400 | 103 | 86 | 45 | 59 | 17 | 4 | 750 |
| Lv | HP | STR | MAG | VIT | SPR | SPD | EVA | EXP |
| --- | --- | --- | --- | --- | --- | --- | --- | --- |
| 71 | 13722 | 104 | 87 | 45 | 60 | 17 | 4 | 760 |
| 72 | 14048 | 105 | 89 | 46 | 61 | 17 | 4 | 770 |
| 73 | 14378 | 107 | 90 | 46 | 62 | 17 | 4 | 780 |
| 74 | 14712 | 108 | 91 | 47 | 62 | 17 | 4 | 790 |
| 75 | 15050 | 109 | 92 | 47 | 64 | 18 | 4 | 800 |
| 76 | 15392 | 110 | 93 | 48 | 64 | 18 | 4 | 810 |
| 77 | 15738 | 111 | 95 | 48 | 65 | 18 | 4 | 820 |
| 78 | 16088 | 112 | 96 | 49 | 66 | 18 | 4 | 830 |
| 79 | 16442 | 113 | 97 | 49 | 67 | 18 | 4 | 840 |
| 80 | 16800 | 115 | 98 | 50 | 67 | 18 | 4 | 850 |
| Lv | HP | STR | MAG | VIT | SPR | SPD | EVA | EXP |
| --- | --- | --- | --- | --- | --- | --- | --- | --- |
| 81 | 17162 | 116 | 99 | 50 | 69 | 18 | 5 | 860 |
| 82 | 17528 | 117 | 100 | 51 | 69 | 18 | 5 | 870 |
| 83 | 17898 | 118 | 102 | 51 | 70 | 18 | 5 | 880 |
| 84 | 18272 | 119 | 103 | 52 | 71 | 18 | 5 | 890 |
| 85 | 18650 | 120 | 104 | 52 | 72 | 19 | 5 | 900 |
| 86 | 19032 | 122 | 105 | 53 | 72 | 19 | 5 | 910 |
| 87 | 19418 | 123 | 106 | 53 | 74 | 19 | 5 | 920 |
| 88 | 19808 | 124 | 108 | 54 | 74 | 19 | 5 | 930 |
| 89 | 20202 | 125 | 109 | 54 | 75 | 19 | 5 | 940 |
| 90 | 20600 | 126 | 110 | 55 | 76 | 19 | 5 | 950 |
| Lv | HP | STR | MAG | VIT | SPR | SPD | EVA | EXP |
| --- | --- | --- | --- | --- | --- | --- | --- | --- |
| 91 | 21002 | 127 | 111 | 55 | 77 | 19 | 5 | 960 |
| 92 | 21408 | 129 | 112 | 56 | 77 | 19 | 5 | 970 |
| 93 | 21818 | 130 | 113 | 56 | 79 | 19 | 5 | 980 |
| 94 | 22232 | 131 | 115 | 57 | 79 | 19 | 5 | 990 |
| 95 | 22650 | 132 | 116 | 57 | 80 | 20 | 5 | 1000 |
| 96 | 23072 | 133 | 117 | 58 | 81 | 20 | 5 | 1010 |
| 97 | 23498 | 134 | 118 | 58 | 82 | 20 | 5 | 1020 |
| 98 | 23928 | 135 | 119 | 59 | 82 | 20 | 5 | 1030 |
| 99 | 24362 | 136 | 120 | 59 | 84 | 20 | 6 | 1040 |
| 100 | 24800 | 138 | 122 | 60 | 84 | 20 | 6 | 1050 |
The Anacondaur is a monster in Final Fantasy VIII. In the Japanese version, it is known as Hedgeviper. The party is forced to fight one in Dollet on their way to the Communications Tower.
A nasty snake-like monster that likes to Poison or strangle its victims, Anacondaur is weak against Ice attacks. One can try putting it to Sleep for an easier battle. Anacondaur is an easy source of Dragon Skins needed for Zell's ultimate weapon.
Anacondaur Card

Element
Poison
Refine
1 refines into 1 Venom Fang
Drop
Anacondaur
Card
Anacondaur
Level 2 (Monster Card)
Win
N/A
Other appearances
Edit


This article or section is a stub about an enemy in Pictlogica Final Fantasy. You can help the Final Fantasy Wiki by expanding it.

Anacondaur from Final Fantasy VIII appears in Final Fantasy Record Keeper as an enemy.

Etymology
Edit
[view · edit · purge]An anaconda is a large snake found in tropical South America. Although the name applies to a group of snakes, it is often used to refer only to one species in particular, the common or green anaconda, Eunectes murinus, which is one of the largest snakes in the world. Giant Anacondas are sometimes said to be as long as thirty meters but such snakes are considered urban myths by experts.