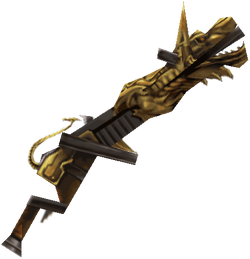 Aldebaran (アルデバラン, Arudebaran?), also known as Aldebarans, is a recurring Gun in the series.
Appearances
Edit
XII Aldebaran is a mid to high-ranked gun that requires the Guns 4 license to equip, and provides 30 Attack, 10 Evade, 51 CT, and 5% Combo Rate. It can be bought for 10,000 gil at Phon Coast and Archades, found at Phon Coast (Pora-Pora Sands or The Hakawea Shore), dropped from Bangaa Pirate (1% chance), or from the Bazaar from the "Mudslinger" category.
In the International version, it now provides 33 Attack and 50 CT, and can now be bought for 7,700 gil at Phon Coast and Archades, dropped (1% chance) from the Bangaa Pirate, or found at Phon Coast (The Hakawea Shore) or Tchita Uplands (The Lost Way).
XIV Aldebaran appears not as a firearm but rather a star globe for Astrologians, a possible reward for delivering the ritual items from completing "The Bowl of Embers (Extreme)", "The Navel (Extreme)", and "The Howling Eye (Extreme)". It requires level 50 or higher to equip with an item level of 90, and provides Vitality +32, Mind +31, Piety +28, and Determination +18.
Dissidia012 Aldebaran is a level 60 gun that provides -228 HP, +54 Bravery, +45 Attack, -1 Defense, and Assist Gauge Duration +20%. It can be obtained from the shop by trading 73,640 gil, Capella, Scorpion Shell, and Gunner's Desire x5.
Etymology
Edit
[view · edit · purge]Aldebaran is an orange giant star that is located about 65 light years from the zodiac constellation of Taurus.