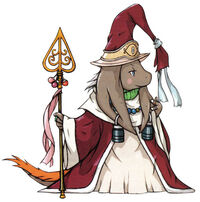 Mage that uses the secrets of alchemy.
—In-game description
TA Alchemist (錬金術士, Renkinjutsushi?) is a job from Final Fantasy Tactics Advance. Unlike the Chemist job of other games who normally mix items, Alchemists focus more on the offense, working to alter the composition of the opponent (Ex: Toad and Poison) or of the environment (Ex. Meteor and Flare). Only nu mou can become Alchemists. Combining the alchemist abilities with White Mage abilities makes for a versatile unit.
Alchemists always have access to the Item command, although it can never be actually equipped as a secondary A-Ability. Instead, the player can choose another action ability to be the secondary A-Ability and still use items in battle.
Prerequisites
Edit
| Move Rate | Jump Rate | Evade Rate |
| --- | --- | --- |
| 3 | 3 | 35 |

Alchemists have high MP, Magic Power and Resistance growths, below-average speed, and abysmal HP, Attack and Defense. The Alchemist's stat growth can be seen as a balance between the Sage and the Time Mage.

| HP | MP | Attack | Defense | Magic Power | Magic Resistance | Speed |
| --- | --- | --- | --- | --- | --- | --- |
| 6.1 D+ | 8.4 S- | 5.9 E | 6.5 D | 9.2 A- | 9.6 A | 0.9 D- |
Abilities
Edit
Alchemist command. Change the form of matter.
| Ability | Equipment | Effect | AP |
| --- | --- | --- | --- |
| Gold Combo | Mythril Mace | Ranged combo ability for alchemists. | 100 |
Other appearances
Edit

Alchemist from Final Fantasy Tactics appears in Final Fantasy Trading Card Game.


This gallery is incomplete and requires Gold Combo added. You can help the Final Fantasy Wiki by uploading images.
Etymology
Edit
[view · edit · purge]An alchemist is a person who practices alchemy, the tradition of creating the legendary philosopher's stone, with which one can supposedly create gold or silver from lead, or produce an elixir of life that bestows immortality.
Ad blocker interference detected!
Wikia is a free-to-use site that makes money from advertising. We have a modified experience for viewers using ad blockers

Wikia is not accessible if you've made further modifications. Remove the custom ad blocker rule(s) and the page will load as expected.