Ad blocker interference detected!
Wikia is a free-to-use site that makes money from advertising. We have a modified experience for viewers using ad blockers

Wikia is not accessible if you've made further modifications. Remove the custom ad blocker rule(s) and the page will load as expected.
Albrook, is a town in Final Fantasy VI. It is a port city, and after Vector, is the city most closely connected to the Gestahlian Empire.
Due to Albrook being the largest port on the Southern Continent, it was one of the first cities conquered by the Empire. When the player visits Albrook for the first time, the pub is always full of off-duty Imperial soldiers, and the streets are patrolled by troops in Magitek Armor.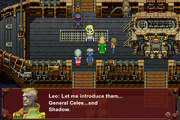 The Blackjack lands at Albrook when Setzer ferries the party to the south to invade the Magitek Research Facility. After the banquet with Gestahl, Terra and Locke come to Albrook to board a Magitek Armor transport ship to Thamasa under the command of General Leo. They are accompanied by Shadow and Celes.
The Floating Continent hovers above Albrook once it becomes airborne, blanketing the city in shadow.
After leaving the Solitary Island in the World of Ruin, Celes washes ashore not far from Albrook. The townsfolk tell her much of what has happened in the past year, including Kefka's rise to power, and a man with a similar sparkle in his eyes to her, who headed north to Tzen to look for his friends.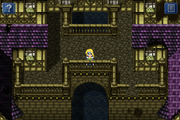 Musical themes
Edit
"Under Martial Law" is Albrook's World of Balance background theme, and is replaced by "From that Day On..." in the World of Ruin.