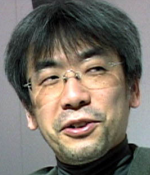 Born in 1962 in Kunamoto prefecture, Akitoshi Kawazu (河津 秋敏, Kawazu Akitoshi?) is a game producer for Square Enix. He served as game designer and scenario writer for the early games in the series, but later became a producer. Kawazu is mostly involved in the development of the Final Fantasy Crystal Chronicles spin-off series. He is also the creator and executive producer of the Ivalice Alliance series.
Kawazu is mostly known for his work on the SaGa series, for which he's directed every installment since its inception. He served as director of Final Fantasy Legend, Final Fantasy Legend II, and Final Fantasy Legend III and produced and directed many other SaGa. He is currently working on the next SaGa title for the PlayStation Vita.
Works in the series
Edit
Ad blocker interference detected!
Wikia is a free-to-use site that makes money from advertising. We have a modified experience for viewers using ad blockers

Wikia is not accessible if you've made further modifications. Remove the custom ad blocker rule(s) and the page will load as expected.