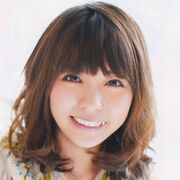 Aki Toyosaki (豊崎 愛生, Toyosaki Aki?), born October 28, 1986, is a Japanese voice actress and singer from Tokushima Prefecture, Japan. She voices Cinque from Final Fantasy Type-0 and Final Fantasy Agito.
Background
Edit
She is best known for providing voice for Yui Hirasawa in K-On! and Momo Velia Deviluke in To Love-Ru series.
External links
Edit
Ad blocker interference detected!
Wikia is a free-to-use site that makes money from advertising. We have a modified experience for viewers using ad blockers

Wikia is not accessible if you've made further modifications. Remove the custom ad blocker rule(s) and the page will load as expected.