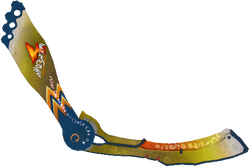 Airwing (エアウィング, Ea Wingu?) is a recurring weapon in the series. It is Hope Estheim's signature weapon.
Appearances
Edit
XIII-2 While Hope is not a playable character, he uses the Airwing to fight once during a cutscene in Yaschas Massif.
DissidiaOO The Airwing (XIII) is is a 4-star based relic weapon belonging to Hope but it can be worn by every character who uses throwing weapons.
When limit broken 3 times it evolves into a 5-star based relic weapon and unlocks the passive ability "INT BRV +55" which adds 55 bravery point to the Initial Bravery Gauge of Hope.
TFF TFFCC Hope wields the Airwing in his character model.
FFRK The Airwing is a Rank 5 Throwing weapon that contains the Earthquake Soul Break for Hope. At max level is has 89 Attack, 80 Magic, 46 Mind, and 95 Accuracy.
FFBE Hope wields the Airwing in one of his sprites.