Ahriman
アーリマン (

Āriman

?)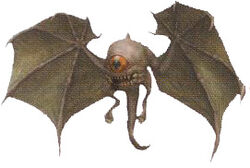 Evil Eye
Statistics
Level
HP
MP
2
99
15
Strength
Magic
Defense
7
1
9
M. Defense
Agility
Accuracy
1
55
8
Evasion
Luck
0
0
EXP
AP
Gil
2
1
20
Ahriman
アーリマン (

Āriman

?)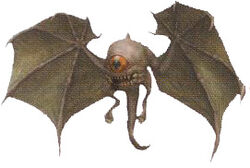 Evil Eye
Statistics
Level
HP
MP
4
396
15
Strength
Magic
Defense
8
1
10
M. Defense
Agility
Accuracy
1
61
8
Evasion
Luck
0
0
EXP
AP
Gil
8
2
20
Ahriman is a fiend in Final Fantasy X-2.
Arhiman have the ability to inflict Darkness, so defeat them quickly by using either normal attacks or magic.
Fiend Tale
Edit
In the Fiend Tale endings, a notable Ahriman fretting over his eye prior to him and Shinra learning of an old man in the Macalania Woods who claims to talk to fiends. However, the old man is revealed to be a schemer as Ahriman's eye is cured by a Gel.
Other appearances
Edit


This article or section is a stub about an enemy in Final Fantasy Record Keeper. You can help the Final Fantasy Wiki by expanding it.
Etymology
Edit
[view · edit · purge]Angra Mainyu in the Avestan language and Ahriman in Middle Persian is the Zoroastrian idea of the devil, meaning "destructive spirit."
Related enemies
Edit
Ad blocker interference detected!
Wikia is a free-to-use site that makes money from advertising. We have a modified experience for viewers using ad blockers

Wikia is not accessible if you've made further modifications. Remove the custom ad blocker rule(s) and the page will load as expected.