Agnès Oblige
Talk

19
16,378 pages on
this wiki
Relm

:

I couldn't miss the chance to practice my drawing!

This article is in need of a few pictures. Perhaps you can help by uploading a picture of Agnès as a Time Mage, Vampire, and Conjurer.
Agnès watches over the Wind Crystal, one of the four crystals worshiped by faithful of Crystal Orthodoxy. When a dark power overruns her temple and the world, she sets off on a quest to awaken the crystals.
—Online description
Agnès Oblige [a'ɲɛs o'bliʒ, though sometimes called 'aɲes], is a playable character in Bravely Default, and is set to appear in Bravely Second. As the vestal of wind, she becomes aware of the danger that is coming upon the world, and with the guidance of Airy, embarks on a journey to reawaken the four crystals.
D's Journal Entries
Edit
See also: D's Journal/People

The Wind Vestal
Of the Oblige line, she met Airy on a hill above the chasm. She encountered Tiz as foretold after he miraculously escaped death.
A twenty-year-old girl from Ancheim. As a vestal, she has devoted her life to the crystals. She escaped the Temple of Wind after it was overrun by dark forces, and came to investigate the Great Chasm. She has absolutely no sense of direction.
Likes: Sweet treats
Dislikes: Meat, crowds, being lost
Appearance
Edit
In Bravely Default, Agnès has brown eyes and long brunette hair down to just above her knees, which she keeps in place with a black hairband. In her Freelancer outfit, she wears a knee-length white dress with dark sleeves and black fur trimming at the hem and black embroidery at the bust. She also wears a black bolero, a black cinch belt, black knee-high boots with pom-poms and elbow-length black gloves. She has a blue pendant, given to her by the Sage when she was a child. Agnès's appearance changes according to which gear she is currently equipping in the game.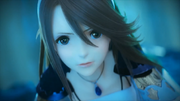 In Bravely Second, Agnès retains her long brunette hair, albeit wearing a white hairband to keep it in place. She is outfitted in a formal white dress, somewhat reminiscent of her vestal garb, that is emblazoned with varying paraphernalia meant to signify her position as Pope. She also wears black gloves and white thigh high boots. In addition to her vestal garb, she still wears her blue pendant around her neck.

Alternate Outfits
Edit
Agnès has several alternate outfits released as part of downloadable content in the Japanese release, which can be obtained in-game in the Western release. Bravo Bunny is unavailable is the Western release.
Personality
Edit
Unacceptable.
—Agnès's trademark words.
As her title implies, Agnès is very proper, polite and chaste. Agnès is very intent on her role as a Vestal and was not originally keen on letting others accompany her on the notion that bringing light to the crystals is her sole mission and did not want other people to be burden to her or be burdened with her problems. Agnès is also unaware of the Crystal Orthodoxy's dark history, shocked as she eventually learns it and of Airy's true nature.
As implied by Airy, "It could take weeks with Agnès sense of direction," and "Your sense of direction is so bad it's almost seems magical," Agnès seems to have a bad sense of direction. In the 'Tiz the Navigator' Party Chat, Airy also says that Agnès was lost many time in the Norende Ravine, it also took her about two hours to reach Airy at the top, despite clear visibility and it having only one path. Agnès denies that fact and said that the path was like a maze, even to locals.
In the Party Chat "Her First Bow", which can be engaged after defeating Artemia, it seems that Agnès hardly ever seen a bow, or understand what or how to use it. When Agnès tried to use it, she thinks that she could "do better with [her] bare hands", much to the fact that she doesn't even know what an arrow is by saying "What's that stick-like object that flew from the bow?" when Ringabel performed a demonstration, then asks "And what is an arrow?". Edea says "Eh? You're kidding... right?", much to her disbelief to how oblivious Agnès can be about it.
Like the other party members, Agnès has fairly balanced stat to make her useful in all roles. However, Agnès primarily focuses on magic as her Intelligence, Mind, and MP stats are the best of the group while her agility is the third best. This makes her great at every magic role in the game, but as an offensive melee fighter, she suffers heavily because of her strength and defense being the lowest of the group. She ideally works best as a Black Mage, White Mage, or Spirit Master due to her stats.

Musical Themes
Edit
Agnès's theme is "Wind's Course", the theme played during her "Special Move" sequence.

Non-Final Fantasy AppearancesEdit
Road to DragonsEdit
Agnès, along with Tiz, appears in Road to Dragons.[3] Agnès comes with Freelancer, Performer, and Valkyrie jobs, each having an active and party ability.
Freelancer has Elixir as an active skill and Dark Resist as a party skill.
Performer has Power of Love as an active skill and Voltage as a party skill.
Valkyrie has Jump as an active skill and Spear Knowledge as a party skill.
Rise of ManaEdit
Agnès Oblige is set to appear in Rise of Mana as a support character.
Etymology
Edit
[view  · edit  · purge]Agnes comes from Ancient Greek ἁγνός (agnós) which means "pure" or "chaste". It could also refer to agnelle, the feminine form of agneau, which means "lamb" in French.
[view  · edit  · purge]Oblige is derived from the French verb obliger, meaning "obligate".
Ordering the Bravely Default Original Soundtrack rewards a knight costume for Agnès and the ability to equip the character's respective default outfit regardless of job. However, the game must first be registered to Japanese Square Enix Member's site.
The artwork of Agnès and Airy works as the cover art for the soundtrack.
Agnès shares her Japanese voice actress with Queen from Final Fantasy Type-0.
A replica of Agnès's Vestal Garb appears on the cover of the X'mas Collections music from Bravely Default.
References
Edit