Aether
Talk

0
13,959 pages on
this wiki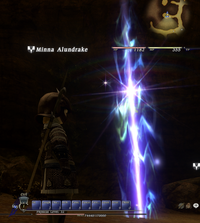 Aether refers to the energy found throughout the world of Hydaelyn in Final Fantasy XIV. It is said to exist all things, and any disruption in the aetherial flow is either the cause or indicator of catastrophic events, as evidenced by the Umbral Eras.
Aether is found in either gas or solid form - as Mist or crystal respectively. It is typically cool in hue, from the icy teal crystals, to deep blue or violet gates and nodes, to vibrant fuchsia miasma. Concept art of bright red-orange crystals have been released to promote Final Fantasy XIV: A Realm Reborn, but the reasons behind the color change are unknown.
See also: Mist (Term), Miasma (Term), Mako, and Lifestream.
Aether is considered very dangerous in high concentrations, and often causes the afflicted to become more aggressive, if not completely maddened. Monsters in aether-abundant areas are more threatening.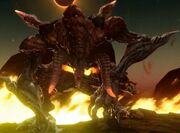 The Primals are called to the physical realm and sustained by massive amounts of aether. Their worshiping Beast Tribes hoard large amounts of crystals to this end, causing problems for trade between them and mankind.
The Primals themselves are surrounded by a disproportionately high concentration of aether, and players are not allowed to stay in their lairs for longer than thirty minutes.
Much like the lairs of Primals, instanced Dungeons, such as Thousand Maws of Toto-Rak and Dzemael Darkhold, have dangerous aetheric levels. Players will be forcibly teleported to safety after a set amount of time by NPCs stationed outside.

When a player reaches an area's Atheryte Crystal or Gate they align themselves permanently to the aether of that area, allowing them to teleport there usually at the expense of Anima. There are also nodes that teleport players to various instances and battles, nodes that appear at the end of a Guildleve to return you to camp, and "Aethernet" crystals for teleporting across town.
Small aetherial crystals are used by Disciples of the Hand for Synthesis. Their largest forms are clusters, but single crystals and shards are used for most recipes. Each crystal has an elemental aspect, such as Fire or Wind, and can go unstable during synthesis.
There are also "Deaspected Crystals" and "Over-aspected Crystals" for specific purposes. As their names imply, they have either no aspect or an unusually strong aspect.
Aether is also found as a weather effect found only in Mor Dhona, and it appears as a psychedelic miasma - magenta in the day and indigo at night. In addition to limiting visibility and altering the effectiveness of certain spells and abilities, this weather condition will cause the Notorious Monster Dodore to spawn.
There are no NPCs guarding the entrances to Mor Dhona, and thus nobody to cast the precautionary teleportation magic on players, which is why there is no time limit for staying in this region. However, the madness that a high amount of aether is said to induce is not present as a gameplay element here.
As mentioned by Cid Garlond, the flow of aether has changed. This has been one of the first signs of the impending Seventh Umbral Era. The Garlean Empire is using vast amounts of Aether to bring Dalamud down from the sky as part of the events that will change the world for 2.0, which is likely the cause of the changing aetheric flow particularly around Silvertear Falls.
The Primals will become free-roaming, meaning the time-limited instances and associated aetherial properties will no longer be involved in battling them.
Aetheryte crystals are undergoing a redesign, and there will likely be a plot explanation for this. Various concept art depicts strange phenomena related to aether as well. What appear to be instances of aether, even a whole Atheryte Crystal, leaving the planet are among the images shown, although next to nothing is known about them.
Finally, with the redesign of area maps there will likely be new Gates to align oneself to.
The aetheric properties of Mor Dhona can cause synthesis crystals to lose their aspect if left in the ground for too long, but this concept only appears in one quest. There are also Deaspected Crystals found through Seventh Umbral Era quests, which can be redeemed for rare prizes.
Aether is part of a franchise trend to use a supernatural substance to explain the origins of magic, crystals, and other phenomena. Other instances of this include Mist, Miasma, and the Lifestream/Mako. Of these, aether is conceptually closest to the Lifestream - both occur naturally in multiple degrees of density and both are poisonous at extreme levels.
Etymology
Edit
According to ancient and medieval science, aether, also spelled æther or ether, is the material that fills the region of the universe above the terrestrial sphere.