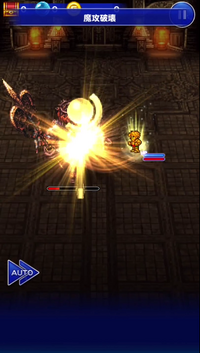 Deal one very fast physical attack to one target, temporarily lowering its Magic a large amount.
Addle (魔攻破壊, Makō Hakai?, lit. Magic Attack Destruction) is a recurring ability in Final Fantasy series. It reduces target's Magic.
Appearances
Edit
XII Addle is a Technick which lowers one foe's Magick Power. It can be bought in Rabanastre and Archades for 3,500 gil, and can be used for 30 License Points.
FFRK Addle is a Burst Mode ability attached to Ark Blast. It is a Support-type ability with charge time of 0.83 seconds, which deals physical damage equal to 200% potency to one enemy and reduces its Magic by 50% for 15 seconds.

This gallery is incomplete and requires Final Fantasy XII added. You can help the Final Fantasy Wiki by uploading images.
Ad blocker interference detected!
Wikia is a free-to-use site that makes money from advertising. We have a modified experience for viewers using ad blockers

Wikia is not accessible if you've made further modifications. Remove the custom ad blocker rule(s) and the page will load as expected.