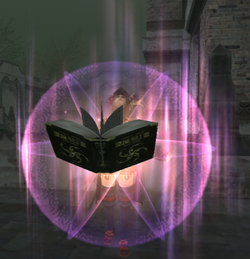 Addendum: Black is a Scholar Stratagem in Final Fantasy XI.
Allows access to additional Black Magic spells while using Dark Arts.
Obtained: Scholar Level 30
Recast Time: Stratagem Charge
Duration: 2 hours
When used, Addendum: Black status overwrites the Dark Arts status. The effects of Addendum: Black are identical to those of Dark Arts, except that it grants access to additional Black Magic spells:
Ad blocker interference detected!
Wikia is a free-to-use site that makes money from advertising. We have a modified experience for viewers using ad blockers

Wikia is not accessible if you've made further modifications. Remove the custom ad blocker rule(s) and the page will load as expected.