Adamantoise (Final Fantasy VIII)
Talk

0
13,957 pages on
this wiki
Final Fantasy VIII Enemy
Adamantoise
アダマンタイマイ (

Adamantaimai

?

)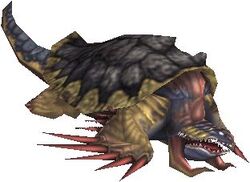 Statistics
Level
HP
Level
HP
1
573
19
3,093
STR
MAG
STR
MAG
13
2
40
17
VIT
SPR
VIT
SPR
210
151
210
160
SPD
EVA
SPD
EVA
3
3
4
3
EXP
AP
EXP
AP
50
4
230
4
Adamantoise
アダマンタイマイ (

Adamantaimai

?

)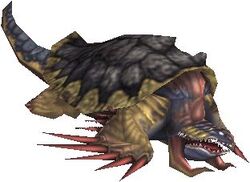 Statistics
Level
HP
Level
HP
20
3,300
29
5,473
STR
MAG
STR
MAG
42
18
55
25
VIT
SPR
VIT
SPR
210
160
210
166
SPD
EVA
SPD
EVA
4
3
5
3
EXP
AP
EXP
AP
240
4
330
4
Adamantoise
アダマンタイマイ (

Adamantaimai

?

)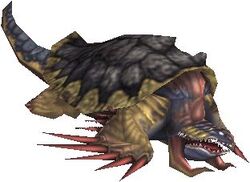 Statistics
Level
HP
Level
HP
30
5,750
100
42,500
STR
MAG
STR
MAG
56
25
155
77
VIT
SPR
VIT
SPR
210
166
210
203
SPD
EVA
SPD
EVA
5
3
10
3
EXP
AP
EXP
AP
340
4
1,040
4
See also: Adamantoise.
Adamantoise is an enemy in Final Fantasy VIII. The rare giant turtle lives on beaches around Dollet and on Long Horn Island, but can also be found in Ultimecia Castle on the fountain square. It is strong of spirit and possesses great vitality.
The heavily-armored Adamantoise will repeatedly heal its group and attack with Blind, making for a long battle. The player can lower the monster's defenses with Meltdown.
If Irvine is in the party, his Limit Break, Shot, is useful, as he has ammo that ignores defense. Adamantoises sometimes cast Shell on each other. The fastest way to defeat them is to use Quistis's Degenerator.
Adamantoises are important enemies for the items they carry: Whisper teaches Quistis White Wind. Orichalcum teaches a Guardian Force the support ability Vit+40% and Adamantine teaches Vit+60%, refines into Steel Curtain items (20 needed) for Auto-Protect, and is also required in modelling Squall's, Zell's and Selphie's ultimate weapons.
Adamantoise
Element
Earth
Refine
3 refine into 1 Turtle Shell
Drop
Adamantine
Card
Adamantoise
Level 4 (Monster Card)
Win
N/A