Series appearances
Edit
Ace appears in the arcade version of Dissidia Final Fantasy, making him the second Final Fantasy character from outside the main series. He is a Shoot-type character.

Ace is set to appear as a playable character.
Ace appears as a playable character and the main representative of Final Fantasy Type-0. He can be available from the start by transferring save data from the second demo. If the player did not select him among their party of four, or didn't download the demo, he can later be unlocked by collecting Yellow Crystal Shards.
He is a Spell oriented character. His Limit, Cannon Laser, deals damage in direct proportion to his Magic, Spirit and level.
Stats
Abilities
PFF Ace appears as a playable character.
FFAB Ace appears as a Legend character.
Portraits
Ability Cards
Legend Cards
Artniks Ace appears as fire-elemental SR+ card.
Ace appears as a playable character. His attacks are Playing Cards, Cut Cards and Blizzard.
TCG Ace appears on many cards. One of the cards is Promotion and the other three cards are fire-elemental. One of them is from a promotional artwork and the other one presents him in his official render pose and having Rubrum's emblem in the red background. The final one representing him in his summer outfit. His cards are part of the Fire set as the cadets serve the Vermilion Bird Crystal in Final Fantasy Type-0.
Ace has Triple Triad cards in the version available via Final Fantasy Portal App.
Guest appearances
Edit
Puzzle & DragonsEdit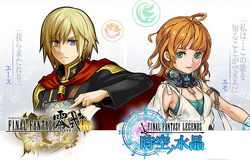 Ace appeared as part of the Final Fantasy Collaboration. The collaboration event happened in the North American version from 2 to 15 November, 2015.
Ad blocker interference detected!
Wikia is a free-to-use site that makes money from advertising. We have a modified experience for viewers using ad blockers

Wikia is not accessible if you've made further modifications. Remove the custom ad blocker rule(s) and the page will load as expected.