Abadon
アバドン (

Abadon

?)
Statistics
Level
HP

500(Lv) + 10

Level
HP

500(Lv) + 10

1
510
19
9,510
STR

([6(Lv)] + [(Lv) / 60] - [(Lv)² / 100] + 150) / 4

MAG

([4(Lv)] + [(Lv) / 75] - [(Lv)² / 100] + 240) / 4

STR

([6(Lv)] + [(Lv) / 60] - [(Lv)² / 100] + 150) / 4

MAG

([4(Lv)] + [(Lv) / 75] - [(Lv)² / 100] + 240) / 4

39
61
65
78
VIT

(Lv) - [(Lv) / 2] + 140

SPR

((Lv) / 64) - [(Lv) / 2] + (Lv) + 40

VIT

(Lv) - [(Lv) / 2] + 140

SPR

((Lv) / 64) - [(Lv) / 2] + (Lv) + 40

141
41
150
50
SPD

((Lv) / 4) - [(Lv) / 16] + 16

EVA

((Lv) / 4) - [(Lv) / 8] + 8

SPD

((Lv) / 4) - [(Lv) / 16] + 16

EVA

((Lv) / 4) - [(Lv) / 8] + 8

16
8
19
10
EXP

0

AP
EXP

0

AP
0
40
0
40
Abadon
アバドン (

Abadon

?)
Statistics
Level
HP

500(Lv) + 10

Level
HP

500(Lv) + 10

30
15,010
34
17,010
STR

([6(Lv)] + [(Lv) / 60] - [(Lv)² / 100] + 150) / 4

MAG

([4(Lv)] + [(Lv) / 75] - [(Lv)² / 100] + 240) / 4

STR

([6(Lv)] + [(Lv) / 60] - [(Lv)² / 100] + 150) / 4

MAG

([4(Lv)] + [(Lv) / 75] - [(Lv)² / 100] + 240) / 4

80
87
85
91
VIT

(Lv) - [(Lv) / 2] + 140

SPR

((Lv) / 64) - [(Lv) / 2] + (Lv) + 40

VIT

(Lv) - [(Lv) / 2] + 140

SPR

((Lv) / 64) - [(Lv) / 2] + (Lv) + 40

155
55
157
57
SPD

((Lv) / 4) - [(Lv) / 16] + 16

EVA

((Lv) / 4) - [(Lv) / 8] + 8

SPD

((Lv) / 4) - [(Lv) / 16] + 16

EVA

((Lv) / 4) - [(Lv) / 8] + 8

22
12
22
12
EXP

0

AP
EXP

0

AP
0
40
0
40
| Lv | HP | STR | MAG | VIT | SPR | SPD | EVA | EXP |
| --- | --- | --- | --- | --- | --- | --- | --- | --- |
| 1 | 510 | 39 | 61 | 141 | 41 | 16 | 8 | 0 |
| 2 | 1010 | 40 | 62 | 141 | 41 | 16 | 8 | 0 |
| 3 | 1510 | 42 | 63 | 142 | 42 | 16 | 8 | 0 |
| 4 | 2010 | 43 | 64 | 142 | 42 | 17 | 9 | 0 |
| 5 | 2510 | 45 | 65 | 143 | 43 | 17 | 9 | 0 |
| 6 | 3010 | 46 | 66 | 143 | 43 | 17 | 9 | 0 |
| 7 | 3510 | 48 | 67 | 144 | 44 | 17 | 9 | 0 |
| 8 | 4010 | 49 | 68 | 144 | 44 | 18 | 9 | 0 |
| 9 | 4510 | 51 | 69 | 145 | 45 | 18 | 9 | 0 |
| 10 | 5010 | 52 | 69 | 145 | 45 | 18 | 9 | 0 |
| Lv | HP | STR | MAG | VIT | SPR | SPD | EVA | EXP |
| --- | --- | --- | --- | --- | --- | --- | --- | --- |
| 11 | 5510 | 53 | 70 | 146 | 46 | 18 | 9 | 0 |
| 12 | 6010 | 55 | 71 | 146 | 46 | 19 | 10 | 0 |
| 13 | 6510 | 56 | 72 | 147 | 47 | 19 | 10 | 0 |
| 14 | 7010 | 58 | 73 | 147 | 47 | 19 | 10 | 0 |
| 15 | 7510 | 59 | 74 | 148 | 48 | 19 | 10 | 0 |
| 16 | 8010 | 61 | 75 | 148 | 48 | 19 | 10 | 0 |
| 17 | 8510 | 62 | 76 | 149 | 49 | 19 | 10 | 0 |
| 18 | 9010 | 63 | 77 | 149 | 49 | 19 | 10 | 0 |
| 19 | 9510 | 65 | 78 | 150 | 50 | 19 | 10 | 0 |
| 20 | 10010 | 66 | 79 | 150 | 50 | 20 | 11 | 0 |
| Lv | HP | STR | MAG | VIT | SPR | SPD | EVA | EXP |
| --- | --- | --- | --- | --- | --- | --- | --- | --- |
| 21 | 10510 | 68 | 80 | 151 | 51 | 20 | 11 | 0 |
| 22 | 11010 | 69 | 81 | 151 | 51 | 20 | 11 | 0 |
| 23 | 11510 | 70 | 81 | 152 | 52 | 20 | 11 | 0 |
| 24 | 12010 | 72 | 82 | 152 | 52 | 21 | 11 | 0 |
| 25 | 12510 | 73 | 83 | 153 | 53 | 21 | 11 | 0 |
| 26 | 13010 | 75 | 84 | 153 | 53 | 21 | 11 | 0 |
| 27 | 13510 | 76 | 85 | 154 | 54 | 21 | 11 | 0 |
| 28 | 14010 | 77 | 86 | 154 | 54 | 22 | 12 | 0 |
| 29 | 14510 | 79 | 87 | 155 | 55 | 22 | 12 | 0 |
| 30 | 15010 | 80 | 87 | 155 | 55 | 22 | 12 | 0 |
| Lv | HP | STR | MAG | VIT | SPR | SPD | EVA | EXP |
| --- | --- | --- | --- | --- | --- | --- | --- | --- |
| 31 | 15510 | 81 | 88 | 156 | 56 | 22 | 12 | 0 |
| 32 | 16010 | 83 | 89 | 156 | 56 | 22 | 12 | 0 |
| 33 | 16510 | 84 | 90 | 157 | 57 | 22 | 12 | 0 |
| 34 | 17010 | 85 | 91 | 157 | 57 | 22 | 12 | 0 |
Abadon
アバドン (

Abadon

?)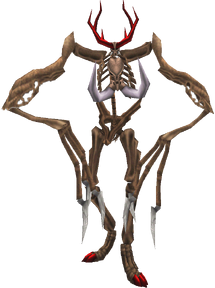 Statistics
Level
HP

100(Lv) + 1000

Level
HP

100(Lv) + 1000

1
1,100
19
2,900
STR

([3(Lv)] + [(Lv) / 5] - [(Lv)² / 260] + 12) / 4

MAG

([0.5(Lv)] + [(Lv) / 6] - [(Lv)² / 500] + 8) / 4

STR

([3(Lv)] + [(Lv) / 5] - [(Lv)² / 260] + 12) / 4

MAG

([0.5(Lv)] + [(Lv) / 6] - [(Lv)² / 500] + 8) / 4

3
2
17
5
VIT

((Lv) / 20) - [(Lv) / 2] + (Lv) + 1

SPR

((Lv) / 20) - [(Lv) / 2] + (Lv) + 1

VIT

((Lv) / 20) - [(Lv) / 2] + (Lv) + 1

SPR

((Lv) / 20) - [(Lv) / 2] + (Lv) + 1

2
2
11
11
SPD

1

EVA

((Lv) / 2) - [(Lv) / 4]

SPD

1

EVA

((Lv) / 2) - [(Lv) / 4]

1
0
1
5
EXP

0

AP
EXP

0

AP
0
0
0
0
Abadon
アバドン (

Abadon

?)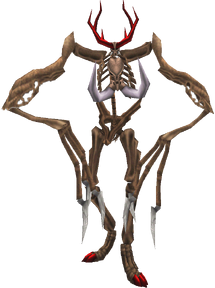 Statistics
Level
HP

100(Lv) + 1000

Level
HP

100(Lv) + 1000

20
3,000
34
4,400
STR

([3(Lv)] + [(Lv) / 5] - [(Lv)² / 260] + 12) / 4

MAG

([0.5(Lv)] + [(Lv) / 6] - [(Lv)² / 500] + 8) / 4

STR

([3(Lv)] + [(Lv) / 5] - [(Lv)² / 260] + 12) / 4

MAG

([0.5(Lv)] + [(Lv) / 6] - [(Lv)² / 500] + 8) / 4

18
5
29
7
VIT

((Lv) / 20) - [(Lv) / 2] + (Lv) + 1

SPR

((Lv) / 20) - [(Lv) / 2] + (Lv) + 1

VIT

((Lv) / 20) - [(Lv) / 2] + (Lv) + 1

SPR

((Lv) / 20) - [(Lv) / 2] + (Lv) + 1

12
12
19
19
SPD

1

EVA

((Lv) / 2) - [(Lv) / 4]

SPD

1

EVA

((Lv) / 2) - [(Lv) / 4]

1
5
1
9
EXP

0

AP
EXP

0

AP
0
0
0
0
| Lv | HP | STR | MAG | VIT | SPR | SPD | EVA | EXP |
| --- | --- | --- | --- | --- | --- | --- | --- | --- |
| 1 | 1100 | 3 | 2 | 2 | 2 | 1 | 0 | 0 |
| 2 | 1200 | 4 | 2 | 2 | 2 | 1 | 1 | 0 |
| 3 | 1300 | 5 | 2 | 3 | 3 | 1 | 1 | 0 |
| 4 | 1400 | 6 | 2 | 3 | 3 | 1 | 1 | 0 |
| 5 | 1500 | 7 | 2 | 4 | 4 | 1 | 1 | 0 |
| 6 | 1600 | 7 | 3 | 4 | 4 | 1 | 2 | 0 |
| 7 | 1700 | 8 | 3 | 5 | 5 | 1 | 2 | 0 |
| 8 | 1800 | 9 | 3 | 5 | 5 | 1 | 2 | 0 |
| 9 | 1900 | 10 | 3 | 6 | 6 | 1 | 2 | 0 |
| 10 | 2000 | 11 | 3 | 6 | 6 | 1 | 3 | 0 |
| Lv | HP | STR | MAG | VIT | SPR | SPD | EVA | EXP |
| --- | --- | --- | --- | --- | --- | --- | --- | --- |
| 11 | 2100 | 11 | 3 | 7 | 7 | 1 | 3 | 0 |
| 12 | 2200 | 12 | 4 | 7 | 7 | 1 | 3 | 0 |
| 13 | 2300 | 13 | 4 | 8 | 8 | 1 | 3 | 0 |
| 14 | 2400 | 14 | 4 | 8 | 8 | 1 | 4 | 0 |
| 15 | 2500 | 15 | 4 | 9 | 9 | 1 | 4 | 0 |
| 16 | 2600 | 15 | 4 | 9 | 9 | 1 | 4 | 0 |
| 17 | 2700 | 16 | 4 | 10 | 10 | 1 | 4 | 0 |
| 18 | 2800 | 17 | 5 | 10 | 10 | 1 | 5 | 0 |
| 19 | 2900 | 17 | 5 | 11 | 11 | 1 | 5 | 0 |
| 20 | 3000 | 18 | 5 | 12 | 12 | 1 | 5 | 0 |
| Lv | HP | STR | MAG | VIT | SPR | SPD | EVA | EXP |
| --- | --- | --- | --- | --- | --- | --- | --- | --- |
| 21 | 3100 | 19 | 5 | 13 | 13 | 1 | 5 | 0 |
| 22 | 3200 | 20 | 5 | 13 | 13 | 1 | 6 | 0 |
| 23 | 3300 | 20 | 5 | 14 | 14 | 1 | 6 | 0 |
| 24 | 3400 | 21 | 5 | 14 | 14 | 1 | 6 | 0 |
| 25 | 3500 | 22 | 5 | 15 | 15 | 1 | 6 | 0 |
| 26 | 3600 | 23 | 6 | 15 | 15 | 1 | 7 | 0 |
| 27 | 3700 | 24 | 6 | 16 | 16 | 1 | 7 | 0 |
| 28 | 3800 | 24 | 6 | 16 | 16 | 1 | 7 | 0 |
| 29 | 3900 | 25 | 6 | 17 | 17 | 1 | 7 | 0 |
| 30 | 4000 | 26 | 6 | 17 | 17 | 1 | 8 | 0 |
| Lv | HP | STR | MAG | VIT | SPR | SPD | EVA | EXP |
| --- | --- | --- | --- | --- | --- | --- | --- | --- |
| 31 | 4100 | 27 | 6 | 18 | 18 | 1 | 8 | 0 |
| 32 | 4200 | 27 | 6 | 18 | 18 | 1 | 8 | 0 |
| 33 | 4300 | 28 | 6 | 19 | 19 | 1 | 8 | 0 |
| 34 | 4400 | 29 | 7 | 19 | 19 | 1 | 9 | 0 |
Abadon is a boss in Final Fantasy VIII fought in the Great Salt Lake outside of Esthar City. The boss is undead so it can be treated like any other undead enemy and be damaged by restorative actions. Abadon is fought while Edea is in the party, and it is the only chance the player has to see Edea's power against a formidable enemy.
The Abadon has no real significance to the story as it just jumps up from a canyon to fight the party, although it can be considered Esthar City's guardian.
Abadon is an undead monster, meaning it is weak to Holy and Fire, takes half damage from physical attacks and is instantly defeated by resurrection items and abilities. Its Lick will deal damage plus inflict Curse status. When Abadon stands up, its Vitality and Spirit increase and it will begin using the Confuse ability.
Squall will point out:
'An undead monster...'
'Use recovery-related magic and items.'
Strategy
Edit
Using healing spells, items and commands will damage it. Abadon can be killed in a single hit with Alexander's Revive command, an X-Potion, or with an Elixir.
Abadon Card

Element
None
Refine
1 refines into 30 Dark Ammo
Drop
N/A
Card
Abyss Worm, Blood Soul
Level 6 (Boss Card)
Win
Anyone with level 6 boss cards
Other appearances
Edit


This article or section is a stub about an enemy in Pictlogica Final Fantasy. You can help the Final Fantasy Wiki by expanding it.

Abadon from Final Fantasy VIII appears as an enemy in Final Fantasy Record Keeper.

Etymology
Edit
[view · edit · purge]The Hebrew term abaddon appears in the Bible as a place of destruction and an angel, respectively. In the Hebrew Bible, abaddon is used with reference to a bottomless pit, often appearing alongside the place שאול (sheol), meaning the land of the dead.