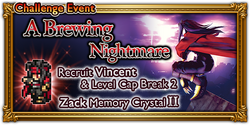 A Brewing Nightmare (悪夢の始まり, Akumu no Hajimari?, lit. The Nightmare Begins) was a short-track Challenge Event in Final Fantasy Record Keeper. Set in the Realm of Final Fantasy VII, players followed Vincent's somber story as it became entwined with the party's struggles to protect the Planet. Reno and Zack returned to break their second level cap. Yuffie also returned to event play. In the global release, this event ran from April 19 to April 29, 2016 (UTC).
This event was the first to follow a new event format: five Classic/Part 1 dungeons, five Elite/Part 2 dungeons, and all Single Plus, Double Plus, and Triple Plus battles were initially released, with Ultimate and Ultimate+ added three days later.

This article or section is a stub in Final Fantasy Record Keeper. You can help the Final Fantasy Wiki by expanding it.