êúô0(äñ), more commonly referred to as Test 0, is an enemy from Final Fantasy VII. They are a test enemy hidden within the game data. In the Japanese version of the game, the model they used was the Guard Hound enemy's model.
Despite the only access to this enemy in the game being mainly through hacking devices, they could be fought in one formation in the Japanese version of the game. A group of four could be fought at the bottom of the well in Corel Prison. In the original PC version of Final Fantasy VII, if one switches the CD just before the beginning of a battle a glitch will trigger and a fight with Test 0 will ensue. Upon either killing it or by running away, the player will return to the world map at the point they left it the last time.
Test 0s are notoriously easy to beat as they do not fight back - they only say "it hurts" and beg for the player to stop. They take a long time to defeat, however, as the levels of the party members at the time they enter Corel Prison are too low to inflict decent damage (and Test 0s have high Speed and Evasion stats).
They are believed to have been used for debugging purposes by the programmers, who seemingly forgot to remove them (or left them in the game as an Easter egg).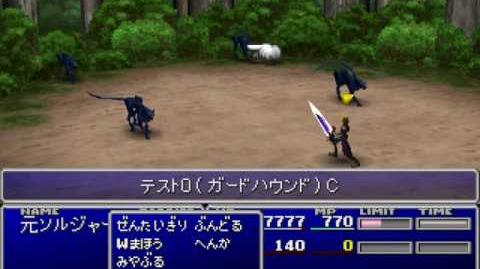 Formations
Edit
#
Formation

000

êúô0(äñ)

001

êúô0(äñ)A, êúô0(äñ)B, êúô0(äñ)C, êúô0(äñ)D

002

êúô0(äñ)

003

Row 1: êúô0(äñ)
Row 2: êúô1(), êúô2(ñ)

009

Row 1: êúô0(äñ)A, êúô0(äñ)B
Row 2: êúô0(äñ)C*

Covered by êúô0(äñ)A, êúô0(äñ)B


Row 3: êúô0(äñ)D*

Covered by êúô0(äñ)A, êúô0(äñ)C

, êúô0(äñ)E*

Covered by êúô0(äñ)B, êúô0(äñ)C


Row 4: êúô0(äñ)F*

Covered by êúô0(äñ)A, êúô0(äñ)B, êúô0(äñ)C, êúô0(äñ)D, êúô0(äñ)E

011

êúô0(äñ) (Back Attack)

022

êúô0(äñ) (Side Attack)

023

êúô0(äñ)

024

êúô0(äñ)A, êúô0(äñ)B (Attack from both sides)

025

êúô0(äñ) (Back Attack)

952

êúô0(äñ)A, êúô0(äñ)B, êúô0(äñ)C, êúô0(äñ)D, êúô0(äñ)E, êúô0(äñ)F

953

êúô0(äñ)A, êúô0(äñ)B, êúô0(äñ)C, êúô0(äñ)D, êúô0(äñ)E, êúô0(äñ)F

954

êúô0(äñ)A, êúô0(äñ)B, êúô0(äñ)C, êúô0(äñ)D, êúô0(äñ)E, êúô0(äñ)F

955

êúô0(äñ)A, êúô0(äñ)B, êúô0(äñ)C, êúô0(äñ)D, êúô0(äñ)E, êúô0(äñ)F

957

êúô0(äñ)A, êúô0(äñ)B, êúô0(äñ)C, êúô0(äñ)D, êúô0(äñ)E, êúô0(äñ)F

958

êúô0(äñ)A, êúô0(äñ)B, êúô0(äñ)C, êúô0(äñ)D, êúô0(äñ)E, êúô0(äñ)F

959

êúô0(äñ)A, êúô0(äñ)B, êúô0(äñ)C, êúô0(äñ)D, êúô0(äñ)E, êúô0(äñ)F

996

êúô0(äñ)A, êúô0(äñ)B, êúô0(äñ)C, êúô0(äñ)D, êúô0(äñ)E, êúô0(äñ)F

997

êúô0(äñ)A, êúô0(äñ)B, êúô0(äñ)C, êúô0(äñ)D, êúô0(äñ)E, êúô0(äñ)F
Related enemies
Edit